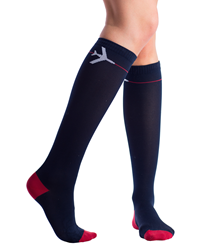 Soxxy compression sox will improve your game by increasing your circulation, decreasing swelling and muscle soreness while reducing the risk of blood clots.
New York, NY (PRWEB) January 20, 2015
SOXXY, Inc, the only performance-fashion legwear brand created by athlete, DVT patient and entrepreneur, unveils new compression sox for golfers.
Soxxy's unique line of compression sox increase circulation, decrease swelling and muscle soreness while reducing the risk of blood clots. Stylish designs for men and women are available in various levels of compression, 15 – 20 mmHg (for leisure sports and travel), 18 – 22 mmHg (high performance) and 20 – 30 mmHg (medical Rx).
"We're thrilled to debut Soxxy at the PGA Merchandise Show. Golfers will improve their performance by wearing compression sox on the course, traveling to tournaments and recovering from swelling and muscle soreness," said Soxxy founder and CEO, Sarah Stabile.
Soxxy compression sox are currently sold onboard airlines, in hospitals, medical clinics and on Soxxyair.com. Doctors, athletes and airline CEOs rave about Soxxy's quality, style and price-point.
"While treating Sarah for Venous Reflux Disease, we came up with Soxxy's CHIL campaign outlining 4 easy tips to educate and improve leg health. CHIL is an acronym: C = compression sox, H = hydration, I = isometric exercises, L = leg elevation," said Dr. Marsel Huribal, MD, FACS and owner of the Vascular Experts Clinics in Connecticut.
About SOXXY, Inc.
Soxxy is the leading performance-fashion legwear brand with stylish compression products designed for athletes, airline passengers, pregnancy, post-operative patients, diabetics and people on the go. The ultra soft micro nylon and Lycra spandex blend provide comfort, stretch, recovery, breathability and anti-microbial features. For more information, please visit http://www.soxxyair.com.
Media inquiries: PR(AT)soxxy.com