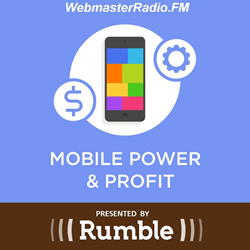 With Mobile Power and Profit, we bring together the best minds to give you the latest in tips, tools and trends
Boca Raton, Florida (PRWEB) January 19, 2015
Mobile is not only the future, it is fast becoming the present. As consumers start to rely on their mobile devices from everything from shopping to searching to socializing, marketers, publishers and technologists need to know how to map out mobile strategies that will push and maximize this new frontier.
In the new weekly WebmasterRadio.FM radio series Mobile Power and Profit, (premiering Monday January 19th at 3pm Eastern/. Noon Pacific) thought leaders in the mobile industry share their experience and knowledge to help you make the best decisions for your mobile strategy.
Mobile Power and Profit is hosted by the cofounder and CRO of Rumble Inc., Uyen Tieu.
Prior to Rumble, Uyen was the Global Head of Ad Sales Strategy at Microsoft and before that she was launching and integrating new media revenue models at MTV Networks as the VP of Sales Strategy and Business Operations.
"Steve Jobs famously made iPhones so simple, you didn't need a user manual. However, creating a mobile business is not so simple, there is no user manual and we are all trying to figure it out together. With Mobile Power and Profit, we bring together the best minds to give you the latest in tips, tools and trends." said Uyen Tieu, host of Mobile Power and Profit.
"Mobile Power and Profit will give unparalleled access into the insights of industry leading organizations, and will put listeners into the driver's seat when implementing their mobile strategies." said WebmasterRadio.FM President Brandy Shapiro-Babin.
Mobile Power and Profit will first feature interviews from mobile thought leaders including Cindy Krum (Mobile Moxie) David Arkin (Gatehouse Media), Doug Stovall (HipCricket) and Jon Walsh (FusePowered).
New episodes of Mobile Power and Profit air Mondays at 3pm Eastern/ Noon Pacific on WebmasterRadio.FM or on demand in the WebmasterRadio.FM archives inside the Internet Marketing Channel or through the WebmasterRadio.FM Mobile Application for iOS and Android Smartphone devices.
Listeners can ask questions to the hosts and guests during each interview, as well as all live WebmasterRadio.FM programming, by following us on Twitter (@webmasterradio), Facebook, LinkedIn, Google+ and our live real-time interactive chatroom. Links to our respective social media pages and our chatroom can be found on our homepage on WebmasterRadio.FM.
All WebmasterRadio.FM programs are available in podcast format through all major podcast portals (including iHeartRadio, iTunes, TuneIn, Stitcher and Zune Marketplace), as well in archived format on-demand through our proprietary mobile application for iOS and Android smartphone devices.
About WebmasterRadio.FM
WebmasterRadio.FM lifts the "veiled curtain" of the Internet, bringing the business community together through an interactive radio network. Its diverse listeners are a global group, comprised of corporate executives and decision makers as well as small and mid-sized businesses and individual entrepreneurs.
WebmasterRadio.FM's stellar line-up of radio programming includes; "Market Edge" with Racepoint Global Chairman Larry Weber , "Purse Strings" with Award-Winning Marketing-to-Women Expert Maria Reitan and the "CyberLaw and Business Report with Internet Law Center Founder Bennet Kelley. To tune into WebmasterRadio.FM's live content or check out the show lineup, please visit http://www.WebmasterRadio.FM.
Media Contact:
Webmaster Radio
Brandy Shapiro-Babin
954-309-5578