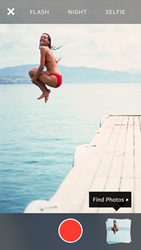 SXSW is the ultimate platform for Vhoto users because the event is an amalgamation of amazing moments waiting to be captured.
Seattle, Washington (PRWEB) January 20, 2015
Vhoto, the company that finds amazing photos through the power of video, was selected as a finalist in the Social Technologies category for the 7th annual SXSW Accelerator competition presented by Oracle. This marquee event of SXSW Interactive Festival's Startup Village features leading startups from around the world showcasing some of the most impressive new technology innovations to a panel of hand-picked judges and a live audience. Hundreds of companies submitted to present at SXSW Accelerator, where Vhoto was selected among 48 finalists in six different categories.
The two-day event will be held the first weekend of SXSW Interactive, Saturday, March 14 through Sunday, March 15, on the sixth floor of the Downtown Austin Hilton. The pitch competition will then culminate with the SXSW Accelerator Awards Ceremony on Sunday evening, March 15, where winning startups from each category will be announced and honored. The Accelerator competition will feature finalists across categories including Enterprise and Smart Data Technologies, Entertainment and Content Technologies, Digital Health and Life Sciences Technologies, Innovative World Technologies, Social Technologies, and Wearable Technologies.
Vhoto will present alongside seven other companies in the Social Technologies category at 11:00 am on Saturday, March 14. Vhoto will showcase the app's cutting edge technology that scans your videos and uncovers the best photos and video clips (GIFs) that can be saved or shared. With Vhoto, you'll never miss a moment. The app is ideal for selfies, action shots, the kids, pets and group pictures - anything that is difficult to capture with a single photo.
"SXSW is the ultimate platform for Vhoto users because the event is an amalgamation of amazing moments waiting to be captured," said Noah Heller, founder and CEO of Vhoto. "We are thrilled to be selected as a finalist in the Social Tech category as it's a fantastic opportunity for our team to showcase our technology which allows everyone to easily grab and share these memories from the videos on their phones."
"Over the past six years of companies competing in SXSW Accelerator, more than 50 percent have gone on to receive funding in excess of $1.7 billion and 12 percent of the companies have been acquired," said SXSW Accelerator Event Producer, Chris Valentine. "This year's finalists have all demonstrated the capability to change our perception of technology and we expect to see them achieve similar, if not greater, success than our past finalists."
For more information about SXSW Accelerator and to view the complete list of finalists, visit the following site: http://sxsw.com/interactive/2015-sxsw-accelerator-finalists.
The Vhoto App for iPhone and iPod touch is available for free exclusively in the App Store in the United States and worldwide. To download the Vhoto app, visit: https://itunes.apple.com/app/vhoto/id816602120
About Vhoto
Based in Seattle, Vhoto is revolutionizing the way people capture and share photos and video clips with its advanced computer vision and machine learning technologies for iPhone and iPod Touch. Founded by Noah Heller in 2012, Vhoto has raised $3.2 million in funding from Polaris Partners and Atlas Venture. For more information, visit http://vho.to.
About SXSW Interactive
The 22nd annual SXSW Interactive Festival returns to Austin from Friday, March 13 through Tuesday, March 17. An incubator of cutting-edge technologies and digital creativity, the 2015 event features five days of compelling presentations and panels from the brightest minds in emerging technology, scores of exciting networking events hosted by industry leaders and an unbeatable lineup of special programs showcasing the best new websites, video games and startup ideas the community has to offer. From hands-on training to big-picture analysis of the future, SXSW Interactive has become the place to preview the technology of tomorrow today. Join us in March 2015 for the sessions, the networking, the evening events, the 18th Annual SXSW Interactive Innovation Awards, SXSW Accelerator, the SXSW Gaming Expo, the SXSW Trade Show, SXSW Create, the Digital Creative Job Market, cross-industry conversations with attendees from SXSW Film and SXSW Music, and, most of all, the unforgettable inspirational experiences that only SXSW can deliver.
SXSW Interactive 2015 is sponsored by Miller Lite, Esurance, AT&T, IFC, Mazda, Monster Energy, McDonald's, Philips and The Austin Chronicle.