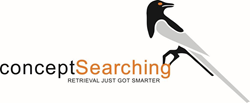 These webinars provide an educational venue where people can attend, learn from industry recognized experts, or access the recorded webinars at their leisure.
McLean, VA, US and Stevenage, UK (PRWEB) January 20, 2015
Concept Searching, a global leader in semantic metadata generation, auto-classification, and taxonomy management software, and developer of the Smart Content Framework™, has compiled the list of its most watched webinars of 2014. Concept Searching webinars are often not product specific, but are designed to educate and inform participants on how enterprise metadata management can significantly contribute to reducing costs and bringing business advantages.
"We changed our webinar approach this last year, and it has proved very successful. In the past our webinars focused on product solutions, either ours, or our partners'. In 2014 we reduced our focus on our products, and offered webinars that were timely, industry pertinent, and educational," commented Martin Garland, President of Concept Searching. "Feedback on these webinars has been very positive. Many business professionals lack an understanding of the capabilities of metadata generation, auto-classification, and taxonomies, regardless of product. These webinars provide an educational venue where people can attend, learn from industry recognized experts, or access the recorded webinars at their leisure," he concluded.
The most popular webinars include the following:
Just the Facts: Auto-classification and Taxonomy Webinar
Somewhat befuddled by all the recent hype about auto-classification? Not really sure if an archaic taxonomy will solve your content management challenges? Many organizations want auto-classification but don't know which way to turn. We can help. This informative and educational webinar walks through the ins and outs of classification and taxonomies.
Microsoft and Concept Searching Webinar Information Governance Webinar
Cem Aykan, Senior Product Manager – Enterprise Search at Microsoft and Don Miller, Vice President of Sales at Concept Searching, explore the power of SharePoint Search, and its role as an integral component of enterprise information governance when combined with Concept Searching's award winning conceptClassifier for SharePoint.
SharePoint, Office 365, OneDrive for Business Integrated Information Governance Solutions
The Concept Searching team is joined by Mack Sigman, FEDSPUG Chairman and Director, and Service Line Lead – Mid Atlantic Region Collaboration Services for Avanade, to discuss the business issues and challenges as organizations are beginning to adopt cloud and hybrid solutions. The webinar illustrates native integration with SharePoint on-premise, Office 365, and OneDrive for Business. And it explores how search, content management, data privacy, records management, migration, eDiscovery, litigation support, FOIA, collaboration, social tagging, and text analytics can be seamlessly integrated with an overall content management strategy.
Compliance in Office 365 – What You Should Know
The same precautions that are taken in an on-premise environment to ensure compliance and information governance are equally important in the cloud. Office 365/Microsoft Online poses the same challenges as SharePoint on-premise, and organizations need to proactively manage information in the cloud the same way. Many organizations are ignoring this issue simply because they view Office 365 as a collaboration venue and don't equate it with facing the same business risks and challenges as SharePoint. This webinar covers the ins and outs of compliance using Office 365 in conjunction with conceptClassifier for Office 365. Understand why records, security breaches, migration issues, search, collaboration, social tagging, and eDiscovery and litigation support, are equal if not more important in the cloud than on-premise.
To access Concept Searching's Recorded Webinars click here. The 2015 webinar series has been launched and will feature clients as guest speakers to share how they are using Concept Searching technologies. To see the Upcoming Webinar schedule, please click here.
Follow Concept Searching: http://www.twitter.com/conceptsearch
About Concept Searching
Concept Searching is the industry leader specializing in semantic metadata generation, auto-classification, and taxonomy management. Platform agnostic, Concept Searching also has a Microsoft Gold Application Development competency, and offers a complete suite of SharePoint and Office 365 solutions. The award winning technologies integrated with Concept Searching's Smart Content Framework™ encompass the entire portfolio of unstructured information assets in on-premise, cloud, or hybrid environments. Clients have deployed the intelligent metadata enabled solutions to improve search, records management, identification and protection of privacy data, migration, text analytics, eDiscovery, and enterprise social networking applications.
Concept Searching is headquartered in the US with offices in the UK, Canada and South Africa.
All product and company names herein may be trademarks of their respective owners.