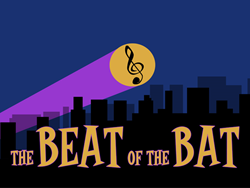 These guys were all the best of the best"
(PRWEB) January 20, 2015
Burbank, California: "Na-na-na-na-na-na-na-na… Batmaaan!" Neal Hefti's "Batman Theme" is one of the single most recognizable pieces of music in the world and filmmaker Pat Evans wants to hear you sing it. He's asking Batman fans from around the globe to submit videos of themselves performing it for "The Beat of the Bat", his upcoming documentary about the music of the 1966 'Batman' TV Series. The best performances will be edited into the final film.
"The 1966 TV Series was the first time Batman was given a musical identity," says Evans, "and it was just as crucial an ingredient in its success as the acting, writing and colorful visuals." And yet there's nary a mention of it amongst the Special Features on the newly released Blu-Ray set of the series, something Evans thinks Adam West's Batman would deem a "dastardly musical crime."
Aside from the theme song, the brassy, inventive music of the series was scored by heavyweights Nelson Riddle and Billy May, both veteran Frank Sinatra arrangers. Additionally, members of "The Wrecking Crew", an elite group of LA studio musicians, performed much of the music. "These guys were all the best of the best", Evans continues, "and the story of how they made this iconic music deserves to be told. That's what this documentary is about."
Fans have a chance to be a part of the film and Batman music history by submitting their own versions of the "Batman Theme" to the film's YouTube channel. The only requirements? "Be creative and have fun" says Evans.
'The Beat of the Bat' tells the story of how composers Neal Hefti, Nelson Riddle & Billy May created the iconic music of the 1966 'Batman' TV series. The documentary is being directed by Batman music expert Pat Evans and Executive Produced by Paul Hefti, son of composer Neal Hefti. More information is available at: http://www.beatofthebat.com.