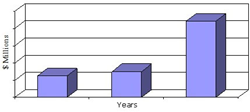 The worldwide market for Industrial Inkjet Printing hardware and consumables is expected to reach $8.8 billion by 2019.
Wellesley, Mass. (PRWEB) January 19, 2015
BCC Research (http://www.bccresearch.com) reveals in its new report on inkjet technologies that although inkjet printing is beginning to have an impact on various types of applications, such as food flavorings and fragrances, chemicals, and optics, the demand for inkjet hardware and consumables in these segments is too small to estimate reliably and is likely to have little impact on overall sales between 2013 and 2019.
The worldwide market for industrial inkjet printing hardware and consumables reached about $2.5 billion in 2013 and just over $3 billion in 2014. By 2019, the market is projected to exceed $8.8 billion, with a 24.1% compound annual growth rate (CAGR).
The industrial inkjet market comprises product decoration, electronics, medicine and life sciences, 3D printing and energy. Product decoration such as textiles, ceramics, glass, wall and floor coverings, food, etc., account for the bulk (around 79% in 2013 and 72% in 2019) of the industrial inkjet market. Electronics is the second largest segment, which reached 11% in 2013 and is expected to grow to 18% in 2019. This will be followed by 3D printing with 6% market share in 2019.
"Although the term 'inkjet printing' reflects the earliest commercial applications of inkjet technology used in computer peripherals that produced hard copy of digital content on paper, it is now used in a growing number of applications that have little to do with printing or the graphic arts, such as the production of electronic devices or bioarrays," says BCC Research analyst Andrew McWilliams.
Emerging Inkjet Printing Technologies, Applications and Global Markets analyzes the key drivers and constraints that will shape the market for the inkjet printing applications as the basis for projecting demand from 2013 to 2019.
Editors and reporters who wish to speak with the analyst should contact Steven Cumming at steven(dot)cumming(at)bccresearch(dot)com.
About BCC Research
BCC Research publishes market research reports that make organizations worldwide more profitable with intelligence that drives smart business decisions. These reports cover today's major industrial and technology sectors, including emerging markets. For more than 40 years we've helped customers identify new market opportunities with accurate and reliable data and insight, including market sizing, forecasting, industry overviews, and identification of significant trends and key market participants. We partner with analysts who are experts in specific areas of industry and technology, providing unbiased measurements and assessments of global markets. Recently selected as the world's greatest market research company, BCC Research is a unit of Eli Global, LLC. Visit our website at http://www.bccresearch.com. Contact us: (+1) 781-489-7301 (U.S. Eastern Time), or email information(at)bccresearch(dot)com.