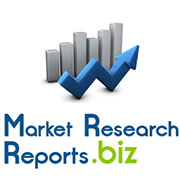 (PRWEB) January 20, 2015
This market research report on the global and China machine tool market offers a comprehensive overview of the structure, demand drivers, ongoing trends in the global and China machine tool market. The introductory part of this report of 121 pages consists of the definition and classification of the overall machine tool market.
View Full Report at http://www.marketresearchreports.biz/analysis/181276
For better understanding via comparative analysis, the report separately discusses the market sizes and dynamics of the global machine tool market on one hand and the Chinese machine tool market on the other. The exhaustive collection of figures, charts, and tables available in the report ensures better understanding of this market and its structure.
This research study discusses the development environment of the machine tool market in China by providing useful insights into the macro and policy environment. The analysis of macro-environment covers points pertaining to gross domestic product and fixed-asset investment. The report explains the status quo of the overall machine tool market in terms of production, consumption, development, key enterprises, and international trade.
Download Detail Report with Complete TOC at http://www.marketresearchreports.biz/sample/sample/181276
This market research report identifies and provides in-depth analysis of the various participants operating in the global and China machine tool market. It throws light on the competitive landscape of this market via comprehensive analysis of the company's respective business strategies, SWOT analysis, services and products offered, growth opportunities, restraints, and respective financial structures.
Furthermore, the research report throws light on the various factors necessary for new entrants to thrive and eventually grow in this industry. The study has segmented the China machine tool market into three major categories: metal cutting machine tools, CNC machine tools, and metal forming machine tools. These three main classifications have been analyzed from aspects such as marketing, production, prominent enterprises, and export and import.
Some of the key global machine tool manufacturers described in the report are Trumpf, Amada, Yamazaki Mazak, Okuma, DMG MORI SEIKI AKTIENGESELLSCHAFT, and Komatsu.
Latest Reports: http://www.marketresearchreports.biz/latest
The prominent Chinese machine tool manufacturing companies mentioned in this research report are Zhejiang RIFA Digital Precision Machinery Company Ltd., TONTEC Technology Investment Group Co Ltd, Qinghai Huading Industries Co., Ltd., NHNC, Qinchuan Machine Tool & Tool Group Share Co., Ltd, and Shenji Group Kunming Machine Tool Co., Ltd.
About MarketResearchReports.biz
Marketresearchreports.biz (http://www.marketresearchreports.biz/) is the most comprehensive collection of market research reports, supporting clients' market intelligence needs with over 100,000 market research reports, company profiles, data books, and regional market profits in its repository. We also offer consulting support for custom market research needs.
Our document database is updated by the hour, which means that our customers always have access to fresh data spanning over 300 industries. From Fortune 500 companies to SMEs, Marketresearchreports.biz has built a veritable reputation for fulfilling the most exacting market research needs.
Contact:
State Tower
90 State Street,
Suite 700, Albany
NY 12207, United States
Toll Free: 866-997-4948
Email: sales@marketresearchreports.biz