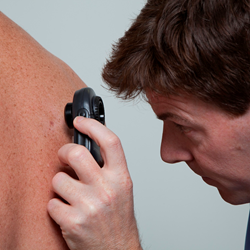 This ranking demonstrates Cosmedics Skin Clinics' expertise in the more specialised and highly skilled area of treating skin blemishes and those 'lumps and bumps' which many patients experience.
London (PRWEB UK) 19 January 2015
As well as providing a range of popular non-surgical cosmetic treatments, Cosmedics Skin Clinics has earned an excellent reputation for the more skilled and specialised area of removal of skin lesions. Blemishes such as moles, cysts, warts, skin tags and lipoma are removed by their doctors and surgeons in a series of UK clinics.
Now the clinic has revealed that the top 4 procedures on their website are for blemish removal, showing the dominance of laser and surgical procedures for skin lesions.
Mole removal tops the list of the most viewed treatment pages, followed by cyst removal and then information about wart and skin tag treatment.
The strong public interest in treatment for these unwelcome conditions is all the more surprising given the wide variety of aesthetic and anti-ageing treatments and options for thread veins and varicose veins which are also featured among the Company's comprehensive offering.
Dr Ross Perry, Medical Director of Cosmedics Skin Clinics, comments:
"This ranking demonstrates Cosmedics Skin Clinics' expertise in the more specialised and highly skilled area of treating skin blemishes and those 'lumps and bumps' which many patients experience."
"It is an area which many clinics fail to address, as it demands a particular level of clinical skill and precision. However, our team of doctors and surgeons are all trained in Cosmedics' unique methods, which are designed to minimise the visibility of scarring."
Skin lesions such as moles, cysts, skin tags and warts come in a variety of shapes and sizes. Some are facial, adding an extra dimension to the importance of a good aesthetic outcome.
Cosmedics Skin Clinics have developed a range of techniques which can be chosen according to the patient's needs. Laser treatment is a very popular option, as clients understand it to be fast and effective. The procedure tends to be quite minimally invasive and leave a neat scar after healing. However, this does not suit all skin lesions. For larger moles and cysts, Cosmedics offer shave excision surgery with Dermablade and for the largest lesions, mole removal surgery with scalpel. Smaller warts and skin tags are treated using intense freezing (cryotherapy) where possible, but laser or surgery are available for particularly large or stubborn problems.
Cosmedics Skin Clinics policy is to put safety first, so all moles are sent away for testing as a matter of course, to rule out any risk or cause for suspicion. The team of doctors and surgeons also offer a full body mole check service, carried out by trained and experienced private mole removal doctors, which is a valued service for those who want complete peace of mind about their skin.
However, despite their clear expertise in skin lesion treatment, for 2015, it is expected that the varicose vein removal service and thread vein removal pages will receive increasing interest, following the establishment of the Company's dedicated London Vein Treatment Centre based in Putney in 2014. Here, a vascular surgeon attends on a regular basis offering laser varicose vein treatment (EVLA) for those with the problem. Foam sclerotherapy and microsurgery are also available where these provide a better option for the patient while thread veins are treated in all UK clinics.
Cosmedics Skin Clinics was established in 2003 and also offers a full range of cosmetic treatments, including popular lip enhancement and wrinkle relaxing injections, dermal fillers and dermaroller®; plus medical treatments including varicose veins, thread vein treatment and excessive sweating injections.
The company achieves high patient satisfaction ratings and has received the WhatClinic.com "Five Star Treatment Customer Service Award" after a series of excellent independent reviews.