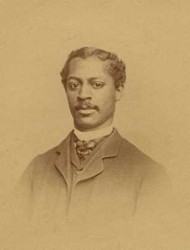 New York, NY (PRWEB) January 19, 2015
Herald Square Dental is saluting Black History Month by honoring a significant figure in dental history. To recognize the achievements and the central role of African Americans in U.S. history, the Midtown Manhattan dental practice would like to bring the attention to the first African-American dentist, Dr. Robert Tanner Freeman DDS. Herald Square Dental will be honoring Dr. Freeman's achievements throughout the month.
Robert Tanner Freeman was born in Washington, D.C. in 1846. His formerly enslaved parents took the surname "Freeman" as did countless other people, after gaining their freedom from bondage. In his youth, Freeman befriended Henry Bliss Noble, a local white dentist in the District of Columbia. Freeman began working as an apprentice to Dr.Noble, who encouraged him to pursue his own career in dentistry. In 1869, Freeman was the first African-American to graduate from the Harvard School of Dental Medicine. He also may be the first African-American awarded a dental degree in the United States.
Dr. Freeman returned to Washington, D.C. after his graduation to open his own practice. He became a pillar in the D.C. black community because of his commitment to mentoring other African-American youth interested in the medical profession. Unfortunately, his death came in 1873, only four years after he received his dental school degree. While working in Washington, D.C. he contracted a water-borne disease, although the records are unclear as to the specific disease.
Dr. Freeman's legacy extends beyond his short life. He was honored by the National Dental Association, the all-black dental group which was founded in 1913 and is headquartered in Washington, D.C. The Association adopted the mission of Dr. Freeman to extend dental treatment and education to the impoverished, the disabled and people of color, as well as those who may not seek proper care due to age. In 1907, the predecessor organization to the National Dental Association called itself the Robert T. Freeman Dental Society.
About the company:
Herald Square Dental and The Denture Center is a full-service dental office offering all phases of general dentistry. This includes porcelain veneers, orthodontic care (including Invisalign), implants that replace missing teeth entirely and more. Herald Square Dental and The Denture center are also well known for quality dentures custom fabricated right on the premises. Conveniently located in Herald Square in the heart of New York City, Herald Square Dental and The Denture Center has been known as New York's place for quality cosmetic dental care and same-day dentures since 1977. They are equipped with all the technology and comfort to optimally restore beautiful smiles successfully, affordably, quickly and conveniently. Dr.'s Pasch, Yam, Shirzadnia and Song and their friendly staff are highly-trained in fixing chipped, cracked or stained teeth with lovely new veneers. At Herald Square Dental and The Denture Center, they offer a wide range of affordable dental makeover options, including natural-looking porcelain crowns, tooth bonding and tooth-colored composite fillings. For more information, visit their website at http://www.heraldsquaredental.com/.