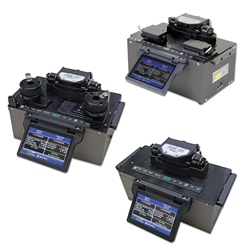 Each fiber recoater is engineered to be easy to operate while maintaining consistent performance.
Spartanburg, SC (PRWEB) January 20, 2015
AFL is introducing a new series of Fujikura high precision fiber recoaters—the FSR-05, FSR-06 and FSR-07. The new fiber recoaters provide extensive programmable features including an automatic resin pumping system that deposits the required amount of recoat material. With new LED curing lamps and easy-to-exchange molds, the FSR series coats fiber sizes from 155 µm to 900 µm. The recoaters provide advanced recoating solutions for end users in fiber manufacturing, fiber sensor manufacturing, university and R&D divisions, submarine cabling, optical components and medical applications.
"As the leader in fusion splicing technology, Fujikura continues to manufacture innovative products that improve highly technical processes for specialty markets," commented Brad Hendrix, global specialty market manager for AFL. "Each fiber recoater is engineered to be easy to operate while maintaining consistent performance."
Ideal for manufacturers that do not require constant proof testing after each recoat, the FSR-05 recoater is the only model without a proof tester. The FSR-06 and FSR-07 are equipped with linear and mandrel tensioning systems which allow proof testing up to 2 kgf and 10 kgf, respectively. The easily replaceable resin bottle and pump allow for a quick refill or exchange of resin. Additionally, all of these recoaters feature a color LCD monitor and intuitive on screen controls as well as a USB interface.
The new fiber recoaters are a part of AFL's and Fujikura's ARCMaster™ product line which includes the LZM-100 laser splicing system, FSM-100 series of specialty fusion splicers, the new CT-105/106 specialty LDF cleavers, strippers and accessories. For more information about AFL, its products and services, visit http://www.AFLglobal.com.
About AFL
AFL provides industry-leading products and services to the electric utility, broadband, communications, enterprise and OEM markets as well as the emerging markets of oil and gas, mining, nuclear, avionics, renewables and transportation. The company's diverse product portfolio includes fiber optic cable, transmission and substation accessories, outside plant equipment, connectors, fusion splicers, test equipment and training. AFL's service portfolio includes market-leading positions with the foremost communications companies supporting inside plant central office, EF&I, outside plant, enterprise and wireless areas.
Founded in 1984, AFL is proud to offer engineering expertise, exceptional products and reliable service that help our customers improve their critical and electrical infrastructure. AFL has operations in the U.S., Mexico, Canada, Europe, Asia and the South Pacific. The company is headquartered in Spartanburg, SC and is a wholly-owned subsidiary of Fujikura Ltd. of Japan.