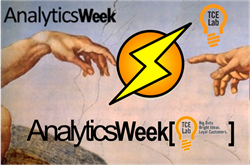 This transaction offers @AnalyticsWeek a recognized platform for enhancing our capabilities to provide world-class market research capabilities and building new, recurring relationships with customers
Boston, MA (PRWEB) January 21, 2015
@AnalyticsWeek LLC and TCELab LLC announced today that the two companies have entered into a definitive merger agreement for @AnalyticsWeek to commence a cash offer to acquire TCELab at an undisclosed price in a private deal. The acquisition has fulfilled customary closing conditions, including the tender of a number of TCELab shares that constitutes a majority of TCELab's outstanding shares of common stock (on a fully-diluted basis). TCELab's directors and executive officers have agreed, in their capacities as stockholders, to tender their TCELab shares and otherwise support the transaction.
The proposed acquisition includes TCELab's top tier customers, its Web-based customer service properties, and innovative research capabilities. In conjunction with the definitive merger agreement, TCELab CEO Stephen King and key members of senior management of TCELab will assist @AnalyticsWeek in various capacities ranging from Business Development and Market Research buildup.
@AnalyticsWeek believes that TCELab has one of the most comprehensive, scalable, optimized and easy-to-use market research offerings in the industry, including targeted surveys, best practice frameworks and the ability to score audit business's research capabilities. @AnalyticsWeek will relinquish TCELab LLC brand and pursue it under @AnalyticsWeek Research umbrella.
"This transaction offers @AnalyticsWeek a recognized platform for enhancing our capabilities to provide world-class market research capabilities and building new, recurring relationships with customers," said Vishal Kumar, President/CEO of @AnalyticsWeek.
"We have always admired TCELab's ability to comprehend business complication and breaking it into actionable insights for businesses to pursue." Sachin Bhate, COO @AnalyticsWeek. "We are really excited and thrilled with what TCELab could bring onboard and help @AnalyticsWeek continue to build a world-class market research company".
@AnalyticsWeek intends to use TCELab's capabilities and methodologies to reach new customers with an enhanced experience for exploring new business opportunities around customer experience and compliment @AnalyticsWeek's existing clientele. @AnalyticsWeek believes the combined capabilities of the two companies will allow it to build stronger relationships with customers, expand the number of subscribers, and capture recurring revenue by offering ongoing value over TCELab powered @AnalyticsWeek platform.
Stephen King, chairman and CEO of TCELab, adds "@AnalyticsWeek will be able to accelerate and deepen the delivery of it's research papers and projects to it's growing big data customer base using the CLAAP Customer Experience platform we developed at TCELab. It's a great application of TCELab tools and a win for both @AnalyticsWeeks and TCELab clients." Stephen's focus will turn to growing his Calgary-based Digital Brand marketing agency, http://www.stephdokin.com, and retains the rights to use TCELab survey tools for it's marketing clients. Bob Hayes, PhD, formerly the CCO of TCELab, will now assume the role of Chief Research Officer of @AnalyticsWeek. Bob says, "I am excited to be working with @AnalyticsWeek. In my role, I will be conducting research in the area of analytics to help companies maximize the value of their business data. Our first major study will be focused on identifying best practices in data science teams."
@AnalyticsWeek completed the acquisition using available cash in a private full cash deal agreement with TCELab. Under the terms of the definitive merger agreement, @AnalyticsWeek commenced a cash tender offer to purchase all of the outstanding shares of TCELab common stocks with a supporting recommendation from the TCELab Board of Directors.
@AnalyticsWeek is helping professionals and businesses harness the true power of data science and analytics for decision-making. With more than 80 clients ranging from Fortune 100 companies to Startups. Via street shows @AnalyticsWeek is poised to expand its operations to 10 US cities and replicate its success from Boston and NYC to 8 more cities. @AnalyticsWeek service offering includes community events to spread awareness on analytics, cutting edge market research in data analytics and providing talent & training services in data science.