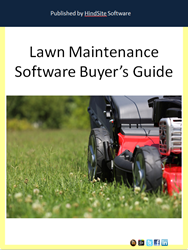 Purchasing software is a big decision, having a clear guide to follow is vital to making that decision.
St. Paul, MN (PRWEB) January 20, 2015
HindSite Software, the leading provider of lawn maintenance software, today announced the release of a new eBook, Lawn Maintenance Software Buyer's Guide. The new eBook is designed to help lawn maintenance businesses evaluate software when making a purchasing decision.
With the improved economy, many lawn care businesses are seeking to invest in software to help streamline their business and clear the way for more growth. The purpose of the eBook is to deliver an easy-to-follow guide to help lawn care businesses research and purchase software that will best suit their specific needs and become an integral part of their daily operations.
Owner of HindSite and 20-year owner of a landscape irrigation business, David Crary, explains the importance of taking your time when making a software buying decision.
"Software can significantly streamline operations in a lawn care business, paving the way for rapid growth that just isn't possible without software." Crary explains, "It also is a big investment and knowing which aspects of software will most impact your business is the key to evaluating vendors."
The eBook includes:
1. How to identify needs and how lawn maintenance software can eliminate the biggest business issues.
2. A features guide to ensure the evaluation compares apples to apples.
3. The specific questions to ask before making a buying decision.
The eBook also analyzes the pros and cons of pricing models available in the market. For example, some vendors have an add-on heavy pricing model. For example, they may charge for each email you send out of their software solution. Though at first glance their software may seem inexpensive, once you calculate the cost of sending thousands of emails per month, the solution becomes less cost-effective.
"Understanding the cost - and value - of each software solution is the key to a successful purchase," explains Crary. "Evaluating software is really about finding the solution that delivers the highest return on your investment. In many cases, that's the most feature-rich - and expensive - solution available."
Visit http://info.hindsitesoftware.com/lawn-maintenance-software-buyers-guide to download the eBook.
About HindSite Software
HindSite Software has helped contractors better manage and grow their business with field service software since 2001. Designed by an landscape irrigation contractor, HindSite assists service businesses with scheduling, contact management, field data collection (e.g. mobile field service software), and invoicing in QuickBooks®, Sage Peachtree®, and Simply Accounting®. This paperless work order management software has been proven to increase efficiency and organization, meaning greater profit potential with less administrative time.