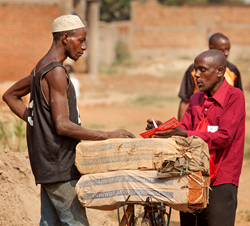 Oklahoma City, OK (PRWEB) January 20, 2015
Reaching Souls International, an Oklahoma City based evangelical non-profit missions ministry, saw 6,004,105 people come to know Jesus Christ in 2014. It was the most salvations the ministry has ever seen in a single year. In addition, 2,915 new churches were planted by the ministry and 880,570 people were baptized during that same period.
Reaching Souls further cared for 710 orphans in 2014 through its Reaching Generations program that provides food, clothing, and education through the help of sponsors in the United States.
Reaching Souls President & CEO, Dustin Manis, commented on the ministry's record breaking year saying, "We are so grateful for God's continued blessing on this ministry. We truly believe that training and empowering local citizens to reach their home nations for Christ is the most effective way to reach the world for Jesus, and God keeps blessing that plan from 2 Timothy 2:2. The results we're seeing are just an amazing affirmation of the truth of God's word and His power to work in the world today."
Reaching Souls currently has over 1,300 evangelists it supports, trains, and empowers to do full time evangelistic work in 8 African nations as well as Cuba, and India. For $100 per month, Reaching Souls can place a native evangelist in the field and provide them with funds to support their family, a bicycle, training, and a portable speaker system. On average, these native evangelists preach the Gospel 14 times per month in their home regions and nations.
To find out more about Reaching Souls, visit http://www.reachingsoulsinternational.org.