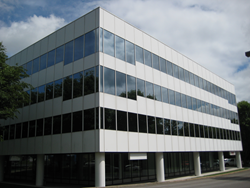 Rye Brook, NY & Danbury, CT (PRWEB) January 23, 2015
Stark Office Suites, which offers premium turn-key, flexible executive offices and virtual office services for successful professionals and entrepreneurs, has added another sought-after location to its roster of premium office spaces throughout the NY Metropolitan Area. Stark has acquired the assets of Plaza Executive Suites and entered into a long-term lease for 23,500 square-feet of office space at 100 Mill Plain Road in Danbury, CT.
"We look forward to welcoming Plaza Executive Suites clients to the Stark family and celebrating their continued business success," said Adam J. Stark, President of Stark Office Suites.
L. Craig Lemle, owner of Plaza Executive Suites and managing partner of Lemle Danbury, LLC, which owns 100 Mill Plain Road, said: "I'm confident our current clients and any future businesses choosing Stark will be served well, given the brand's sterling reputation in the marketplace." Lemle went on to say, "100 Mill Plain Road is an ideal location for companies of all sizes, and as the owner of the building, we welcome the newest location of Stark Office Suites."
Danbury marks the ninth location for Stark and the company's third location in Fairfield County. Since 2004, Stark has built a network of premier office suite locations in New York City, White Plains, Harrison, Mount Kisco, Rye Brook, Scarsdale, Greenwich and Stamford, totaling 175,000-square-feet of premium office. Since its establishment in 2004, Stark Office Suites has grown significantly. The company currently serves approximately 800 clients, and has more than tripled its revenues over the past five years.
The Danbury location is currently home to approximately 100 clients across a variety of industries, such as law, finance, marketing, real estate, and various other professionals. The facility will be renovated and significant technological investments will be made to upgrade it to the highest standards. Stark will bring the same high-level of customer service for which it is known and will provide a comprehensive offering of both full-time and virtual office solutions. A complete array of video conferencing services will be available to all Stark clients.
"We are thrilled to bring Stark's signature style and service to Danbury," Stark said. "Danbury is an ideal location for Stark Offices Suites and allows us to meet the demand for turn-key office space and high-end amenities for professionals and entrepreneurs right here in Fairfield County as well as those hailing from New York's Putnam, Dutchess and Northern Westchester counties."
Conveniently located off of Exit 2 on I-84, Stark Office Suites of Danbury is minutes away from I-84, I-684 and Route 7, providing easy access to Greenwich, Westchester and New York City, with close proximity to area hotels, restaurants and the Danbury Fair Mall. The site includes large windowed and corner offices, a full-service bank in the lobby, on-site property management and security and ample covered parking.
"Our plan has been to strategically add locations in order to better serve our existing clients as well as the market as a whole," Stark said. "For our new Danbury clients we will be able to offer access to all our locations throughout Fairfield and Westchester counties as well as New York City, bringing them additional value."
The Stark Office Suites in Manhattan is located in the tower of One Grand Central Place, 60 East 42nd Street. The Stark Office Suites in White Plains is located at 445 Hamilton Ave. The Stark Office Suites in Mount Kisco is located at 100 South Bedford Road. The Stark Office Suites in Harrison is located at 500 Mamaroneck Avenue. The Stark Office Suites in Scarsdale Village is located at 2 Overhill Road. The Stark Office Suites in Rye Brook is located at 800 Westchester Avenue. The Stark Office Suites in Stamford is located at 243 Tresser Boulevard. The Stark Office Suites in Greenwich is located at The Greenwich Office Park. The Stark Office Suites in Danbury is located at 100 Mill Plain Road. Stark's corporate offices are located at 800 Westchester Avenue, Rye Brook, New York. For additional information, call 914.428.0500, or visit http://www.StarkOfficeSuites.com.
About Stark Office Suites: Stark Office Suites enables entrepreneurs and professionals to establish and maintain a polished professional image without the cost and commitment of a traditional office and staff. Stark offers premium turn-key full-time and virtual office options, multiple conference room venues and state-of-the-art technology including a complete fiber-optic solution. All Stark Office Suites are conveniently located close to major area highways and Metro-North train stations. Stark operates nine premium office suites including one location in Manhattan at One Grand Central Place as well as five Westchester locations in White Plains, Mount Kisco, Harrison, Scarsdale Village and Rye Brook, and three Fairfield County locations in Greenwich, Stamford and Danbury.