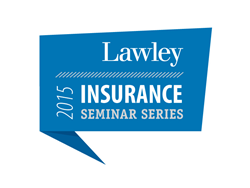 "We are excited to kick off the year with events that can help business leaders make smart decisions about the insurance coverages they need," stated Mike Lawley, Principal of Lawley
Buffalo, NY (PRWEB) January 20, 2015
Today Lawley announced its 2015 Seminar Series designed to help CEOs, CFOs and other business leaders understand how all of the different insurance coverages can help provide better protection and mitigate unknown risks for their companies.
With the ever-changing insurance landscape, business decision makers can leverage Lawley's experience in business insurance, employee benefits and risk management consulting through these free seminars in Buffalo, NY, Rochester, NY and webinars.
Attendees of these exclusive breakfast presentations will receive updates on legislative changes that can affect their company, case studies and tips on how to prevent risk and discussions with Lawley specialists covering topics such as workers compensation, cyber security data breaches, healthcare reform and many more.
Lawley, the 54th largest independent broker in the United States this year ranked by Business Insurance magazine, will begin the seminar series in February with a presentation titled "Employee Benefits For Small Business" covering how the reclassification of small businesses in 2016 may affect their employee benefits package offered to their employees, cyber security for small business and more. Rochester will kick off the first seminar on February 11th at 8:00 a.m. at the Monroe Golf Club, followed by a similar presentation on February 12th in Buffalo in partnership with Superior Group and the Amherst Chamber of Commerce, and hosted at the new (716) Food and Sport in HarborCenter. A live webinar will complete the month on February 26th at 2:00 p.m. Each event will feature specialists from Lawley and typically a panel discussion with experts from complimentary fields, such as accounting firms, chambers of commerce and other key professionals.
"We are excited to kick off the year with events that can help business leaders make smart decisions about the insurance coverages they need," stated Mike Lawley, Principal of Lawley. "We wanted to give everyone the ability to learn about upcoming changes and coverages they may not have considered that can help protect the business they work so hard to build."
The Lawley Insurance Seminar Series schedule is below and can be found at lawleyseminars.com where registration is free.
Employee Benefits For Small Business
February 11th (Rochester)
February 12th (Buffalo)
February 26th (Webinar)
Cyber Liability and Data Breaches
March 12th (Rochester)
March 13th (Buffalo)
March 26th (Webinar)
Navigating the Retirement Plan Minefield
April 15th (Rochester)
April 16th (Buffalo)
April 23rd (Webinar)
The Benefits of Captive Insurance
May 11th (Rochester)
May 12th (Buffalo)
May 26th (Webinar)
Nonprofit Insurance
June 17th (Rochester)
June 11th (Buffalo)
June 25th (Webinar)
Manufacturing Insurance
July 8th (Rochester)
July 9th (Buffalo)
July 23rd (Webinar)
Private Employee Benefits Exchanges
August 12th (Rochester)
August 12th (Buffalo)
August 27th (Webinar)
Healthcare Reform Updates
September 16th (Rochester)
September 17th (Buffalo)
September 24th (Webinar)
Small Business Insurance
October 7th (Rochester)
October 8th (Buffalo)
October 22nd (Webinar)
How To Manage Labor Law
November 4th (Rochester)
November 5th (Buffalo)
November 19th (Webinar)
Risk Management & Employee Wellness
December 9th (Rochester)
December 10th (Buffalo)
December 17th (Webinar)
Registration is limited and currently open. For more information and to stay up-to-date on panelists and discussion topics, visit our events page at lawleyinsurance.com/events.
About Lawley
Lawley is a privately-owned independent regional insurance firm specializing in property, casualty and personal insurance, employee benefits and risk management consulting and ranked among the 100 Largest Insurance Brokers in the U.S., according to Business Insurance magazine.
For roughly 60 years, Lawley's team of over 350 associates have developed customized property, casualty, surety and benefits insurance programs for businesses and municipalities of all sizes and personalized protection for individuals and their families. Lawley is consistently recognized as one of the Best Places to Work by Buffalo Business First.
Headquartered in Buffalo, NY, Lawley has branch offices across New York State in Amherst, Batavia, Elmsford, Fredonia, Melville and Rochester along with Darien, Connecticut and Florham Park, New Jersey. To find out more, visit lawleylnsurance.com.