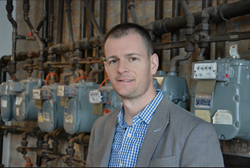 I came to All Terrain after being drawn to the agency's history of bringing unique solutions to top shelf brands
Chicago, IL (PRWEB) January 22, 2015
All Terrain, one of the fastest growing national Experiential Marketing agencies, recently announced that Andrew Prahin has been named creative director. He will report to agency co-founders Sarah Eck-Thompson and Brook Jay. In this role, he will be responsible for translating internal and external marketing objectives into creative strategies, design campaigns and plans for highly effective experiential programs.
"Andrew brings a global perspective to All Terrain that will contribute to our growth as leaders in the experiential marketing space," says Jay. "He has an impressive record of conceptualizing and developing strategic campaigns that bring clients measurable results."
Prahin comes to All Terrain from Geometry Global, where he served as an associate creative director. He previously served as senior creative for Mesh in London, United Kingdom, where he guided experiential and social media campaigns to brand successes and industry recognition. Examples of his work include the co-creation of the Hubba Bubba "Now That's Original" campaign, which rejuvenated the brand and took home the 2013 MAA Best Awards "Best Social Media-Led Campaign." Prahin also led the creation and development of the Skittles "Build the Rainbow" 48-hour live streaming online event, during which over 100,000 fans from 9 countries in 5 time zones interacted with the brand. For Ryan Partnership, Prahin spearheaded the repositioning of the Merkts Cheese Spread brand, leveraging partnerships with the Chicago Blackhawks and other high profile sports teams to achieve a massive jump in sales.
"I came to All Terrain after being drawn to the agency's history of bringing unique solutions to top shelf brands," Prahin explains. "My goal is to expand that reputation for creative innovation in the experiential arena."
Prahin is a graduate of Northern Illinois University, where he studied Illustration. He is the author and illustrator of children's book Brimsby's Hats, published by Simon & Schuster.
ABOUT ALL TERRAIN
All Terrain is a strategic marketing agency that has pioneered a new experience design model for a constantly evolving consumer and marketplace. By using insights and data points, including those gathered from its own self-maintained panel of over 2,000 consumers, All Terrain develops branded experiences designed to integrate clients with their consumers at convenient and relevant touch-points. 16 years of expertise in experience design enables All Terrain to deliver programs that create meaningful connections between brands and consumers in both real world and digital environments.