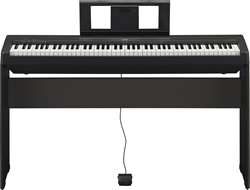 "Yamaha is passionate about music and music education, which is reflected in our relentless desire and determination to delight our customers and to keep changing the musical landscape," said Mr. Hitoshi Fukutome, president, Yamaha Corporation of America.
ANAHEIM (PRWEB) January 22, 2015
Yamaha, the world's largest musical instrument manufacturer, will introduce innovative new products that help embody the company's mission of "Sharing Passion & Performance" when it exhibits at the 2015 NAMM Show, to be held January 22 to 25 in Anaheim, California, United States of America.
The Yamaha booth will again occupy an exhibition hall the size of a football field and will be located at the Marquis Ballroom at the Anaheim Marriott Hotel, next door to the Anaheim Convention Center. At http://www.yamaha.com/namm, the company will continue its onsite content production and social media presence throughout the show and feature special live-streaming product spotlights, interviews and behind-the-scenes access directly to music fans throughout the world.
"Yamaha is passionate about music and music education, which is reflected in our relentless desire and determination to delight our customers and to keep changing the musical landscape," said Mr. Hitoshi Fukutome, president, Yamaha Corporation of America. "Performance can refer to a virtuosic display of musical talent, but it also relates to our team members, who work diligently to achieve our goals, and to our dealers, who understand that Yamaha is a profitable brand to carry."
At the 2015 NAMM Show, the Keyboard Division will introduce the P-45 and P-115 portable digital pianos, which offer enhanced sound and new features for practice and performance. Yamaha b Series pianos are now available with an attractive chrome hardware option and the PSR-E253 and PSR-353 portable keyboards come with robust feature sets that belie their entry-level price points. Yamaha Music Interactive will debut Synth Voice Libraries and two YamahaMusicSoft.com downloads: Printable Sheet Music and Custom Audio Backing Tracks.
Yamaha's Band & Orchestral Division unveils new Custom CSVR clarinets, which raise the bar for consistency and reliability. Other wind offerings include the Xeno Artist Model Chicago B-flat trumpet and a redesigned lineup of Xeno C trumpets. Percussion instruments and accessories to be exhibited include the 3300 Series timpani, the SCK-350 student percussion kit, sturdy marching snare drum mounts and MKAW Series of Keiko Abe marimba mallets with Rattan shafts.
Pro Audio & Combo products feature the powerful yet portable DBR Series of active loudspeakers and the CBR Series of passive loudspeakers. Yamaha has created a new category of mixers with the AG Series of hybrid mixing consoles and USB audio interfaces that serve the needs of webcasters, podcasters, gamers and music producers. The new Synth Book App is part softsynth and part Yamaha synth history guide. Yamaha will display around a dozen vintage synthesizers to celebrate 40 years manufacturing industry-leading synth keyboards.
Yamaha Guitars will exhibit three Pacifica electric guitar models, available in the United States for the first time, along with the new A6 acoustic-electric guitars, boutique additions to the award-winning A-Series. Yamaha Drums introduces two new apps for its electronic drum products, which makes Yamaha the only drum company to offer multiple apps to enhance the value of its DTX electronic drum line.
Bösendorfer is introducing the "Schönbrunn" limited edition grand piano. Austrian Empress Maria Theresa made Schönbrunn Palace her imperial summer residence and it became the glamorous focus of court life. The piano pays tribute to the palace's magnificent gardens and murals.
Steinberg, which celebrated its 30th anniversary in 2014, will also feature a full display of new product offerings in the Marquis Ballroom, including the UR12 audio interface, Cubase Pro 8 and Vocaloid voice synthesis technology.
In what has become a highlight of the NAMM Show, Yamaha Music Education System will present inspiring free performances by young composers at its annual Junior Original Concert (JOC), to be held at 1:00 pm on Thursday, January 22, 2015 in the Keyboard area of the Yamaha booth. All NAMM attendees are invited to enjoy the event. Three talented Yamaha Music School students from across the United States, ranging in age from 9 to 15 years old, will each perform an original composition on a Yamaha N3 AvantGrand Hybrid Piano.
For more information about Yamaha Corporation of America, visit the Yamaha booth at the 2015 NAMM Show in the Anaheim Marriott Hotel, Marquis Ballroom, January 22-25, or visit http://4wrd.it/usayamaha.
-END-
About Yamaha Corporation of America
Yamaha Corporation of America (YCA) is one of the largest subsidiaries of Yamaha Corporation, Japan and offers a full line of award-winning musical instruments, sound reinforcement and home entertainment products to the U.S. market. Products include: Yamaha acoustic, digital and hybrid pianos, portable keyboards, guitars, acoustic and electronic drums, band and orchestral instruments, marching percussion products, synthesizers, professional digital and analog audio equipment, Steinberg recording products and Nexo commercial audio products, as well as AV receivers, amplifiers, Blu-ray/CD players, iPod docking systems, home-theater-in-a-box systems, earphones, headphones, sound bars, and its exclusive line of Digital Sound Projectors. YCA markets innovative, finely crafted technology and entertainment products and musical instruments targeted to the hobbyist, education, worship, professional music, installation and consumer markets.