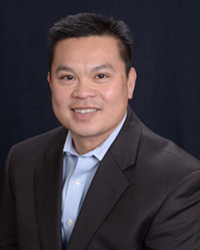 We believe that we have the right people in the right spots to help our customer operate better.
Oakdale, MN (PRWEB) January 21, 2015
Supply Chain Services, a leading supplier of data collection solutions for the warehouse, distribution, logistics and manufacturing markets today announces the promotion of Nhut Doan to vice president of sales as the result of a strategic plan to strengthen and enhance the company's ability to continue providing the support and communications customers need. The move also helps provide industry leading customer service as the company continues to grow rapidly.
Nhut Doan is responsible for helping the sales team become more proficient in understanding the real needs of clients – allowing us to create solutions and services that enable our clients to remain competitive in their market space. As the market continues to evolve, the key differentiator for Supply Chain Services is helping clients get the most out of the devices they currently have and becoming an extension of our client's team so they can continue to focus on their core business.
Nhut started in the Automatic Identification and Data Collection (AIDC) industry in 1996 specializing in barcode labels. He learned the value of relationships while becoming proficient with barcoding systems. His experience in the industry, in sales and operations management, and with launching his own company helps him understand the complexities of running a sales organization that is customer-focused.
"Nhut Doan's previous position was sales manager for a portion of the Supply Chain Services' sales team where he learned about our barcoding solutions, our processes and the needs of our customers," said Dave Green, COO of Supply Chain Services. "He has strengthened the sales team from new sales staff to some of our top performers. Nhut is now being tasked with growing the entire sales organization for barcoding equipment."
Service, support and communications are the top reasons Supply Chain Services' customers cite for their selection of the company as the provider of choice. With growth of over twenty percent annually the company is modifying its sales structure to provide more management support to continue to provide the highest level of communications and support for customers.
About Supply Chain Services
Supply Chain Services is a full service provider of barcode systems with IT support services to design and implement data collection solutions. The company specializes in designing and implementing rugged mobile computers, barcode scanners, barcode printers, and wireless networks to support supply chain processes within warehousing, distribution, manufacturing, and logistics organizations. Supply Chain Services is located in Oakdale, Minnesota and has over 2000 customers across North America. For more information, visit http://www.supplychainservices.com.