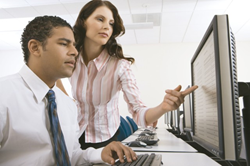 We are looking forward to working with the Ministry of Health to bring medicines to the Omani people faster
Munich/Ottobrunn, Germany (PRWEB UK) 21 January 2015
EXTEDO, a key eRegulatory Affairs solutions provider for life sciences firms, today announced that the Ministry of Health of Oman has selected an EXTEDO solution for its reviewing and validation project.
The selected solution is based on EURS (EXTEDO Universal Review System), which is in use at the European Medicines Agency, associated European national competent authorities (NCAs), as well as authorities outside of the European Union, including Swissmedic, Saudi FDA, MCC South Africa and now MOH of Oman.
EURS is part of the EXTEDOsuite and serves as an overall eCTD & NeeS format validation and reviewing software tool. It reports whether a submitted eCTD- or NeeS-based application conforms to the official formats. The EXTEDO solution will validate, import, and review electronic submission information sent by pharmaceutical companies on electronic media such as CDs or DVDs.
The Omani Ministry of Health is adopting EURS in an effort to modernize infrastructures and streamline operations to better align with current international regulatory requirements. Regional requirements of Oman have been jointly worked out and are adopted within the new EXTEDO solution.
"Oman is committed to dramatically reduce registration times. The country has decided to embrace technologies to start a time-effective reviewing process and accept electronic submissions instead of paper-based submissions," said Maximilian Munte, Managing Director of EXTEDO. "We are looking forward to working with the Ministry of Health to bring medicines to the Omani people faster."
About EXTEDO
EXTEDO is the key software and service solutions provider in the field of Regulatory Information Management (RIM). EXTEDO's focus is on optimizing clients' eRegulatory business processes. The company's enabling technology, the EXTEDOsuite, is unique in that it covers the complete regulatory landscape including: product registration planning & tracking (IDMP), submission publishing & lifecycle management, pharmacovigilance management and document management. Today, EXTEDO serves over 700 customers in 60 countries, including the EMA and more than 25 regulatory authorities worldwide.
For more information please visit http://www.extedo.com