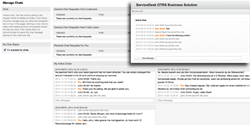 The OTRS Business Solution™ is the most flexible and adaptable customer support software you have ever seen. It offers service organizations outstanding features they can add or change according to their requirements and provides them with services
Cupertino, California, United States (PRWEB UK) 19 January 2015
OTRS Group, the world's leading provider of open-source and cloud-based service management software solutions, is announcing today the launch of the OTRS Business Solution™, its new customer support software solution.
With a brand new Customer Chat feature, as well as a selection assistant pop-up for SLAs called 'Field Selection Dialogue', the OTRS Business Solution™ enables closer and more direct customer relations and prevents an overload of service teams while directing customer decisions and expectations when choosing support. A new, Facebook-inspired Ticket Timeline View and the new Ticket Attachment View not only provide a better overview of longer written conversations and the attachments in a ticket, but also improve the acceptance of the customer support staff thanks to a familiar look and feel. The OTRS Business Solution™ can also serve as a perfect complement to ERP, CRM or any other ticket tool thanks to the feature 'Dynamic Field Database', enabling data from external databases to be displayed, automatically updated and stored within tickets.
In addition to the integrated cloud services, the OTRS Business Solution™ offers even more exclusive features such as the Ticket Workflow, Time Accounting Quota and Ticket Allocation features, as well as many more that can be freely selected and changed at any time depending on the needs of your service organization. They also make the OTRS Business Solution™ a suitable customer support software solution for a wide range of industries such as education, government, consulting, and IT & telecommunications, as well as an interesting tool for internal communication processes in departments such as human resources, facility management and marketing. Moreover, included services such as initial implementation assessment, regular software updates and obligatory SLAs offer the security and reliability needed for professional business use.
The OTRS Business Solution™ is available as both an on-premise solution to be implemented using your own infrastructure, and a full-service cloud solution: the 'OTRS Business Solution™ Managed'. OTRS Group offers a 30-Day-Free-Trial for the new OTRS Business Solution™ here: https://www.otrs.com/cloud-based-service-management-software-otrs-business-solution-managed/
In the words of Christopher Kuhn, COO of OTRS Group: "The OTRS Business Solution™ is the most flexible and adaptable customer support software you have ever seen. It offers service organizations outstanding features they can add or change according to their requirements and provides them with professional services like regular updates, training courses and implementation. Many of our over 130,000 customers worldwide use OTRS in more than one department and the OTRS Business Solution™ now makes this even easier."
Find more information about the OTRS Business Solution™ here: https://www.otrs.com/otrs-business-solution-improving-customer-service/
About OTRS Group
OTRS Group is the vendor and world's leading provider of the open-source OTRS Service Management Suite, including the cloud-based Managed-OTRS solution, as well as the OTRS Help Desk software and the ITIL® V3-compliant IT Service Management software OTRS::ITSM. With subsidiaries in the US, the Netherlands, Hong Kong, Malaysia and Mexico, OTRS Group offers managed services as well as training seminars, service support, consulting and software development to businesses that wish to increase the efficiency of their service management while saving costs and resources. Key customers include industry leaders such as NASA, IBM, Siemens and Kentucky Fried Chicken, as well as 130,000 other organizations worldwide. OTRS is available in 34 languages, offers an associated iPhone App, and is used by 60 percent of the DAX 30 companies. Find out more about OTRS and our services at http://www.otrs.com.