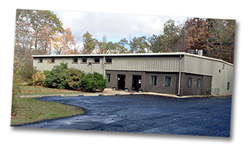 It has been extremely rewarding watching the company grow from a one man shop to a fully staffed lab
Sturbridge, MA (PRWEB) January 21, 2015
Sturbridge Metallurgical Services, Inc. (SMS) is proud to announce the start of their twenty-fifth year in business. Founded in 1990 by President Courtney A Grimes, SMS was formed to provide metallurgical services to companies that did not have the resources for an in-house metallurgist or lab, but still required the insight into the materials they were working with.
Over the past twenty-five (25) years SMS has grown from the garage of Courtney's house to a 6,500+ square foot facility with 9 employees and plans to expand further in the coming months/year. In addition to the metallurgical services, they now also offer a full line of metallurgical lab equipment as well as consumable products through their online store.
Sturbridge Metallurgical has built an impressive reputation and respect amongst their peers for the level of detail and insight provided with each and every project. They have been involved in Root Cause Failure Analysis cases both small and large and have successfully supported all of their findings through their in-house laboratory capabilities.
"It has been extremely rewarding watching the company grow from a one man shop to a fully staffed lab" says Courtney Grimes, President. "You never know what is going to happen when you venture out on your own, but the hard work seems to be paying off now".
Sturbridge Metallurgical Services Inc, an ISO/IEC 17025:2005 Approved Laboratory and Nadcap Accredited Laboratory, is the go-to lab for honest, reliable, accurate metallurgical results and services that meet both your deadline and your budget, while also providing industry leading laboratory equipment and supplies for your own laboratory.