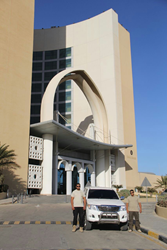 For us, it's all about keeping people safe, productive and happy wherever their jobs take them.
Seattle, WA (PRWEB) January 21, 2015
AS Solution and Damasec have joined forces on the ground in Libya to provide a wide range of security services and travel logistics solutions to the corporations, governmental organizations and NGOs who continue to operate in Libya despite the country's current complex security situation.
The joint venture integrates two sets of competencies into one security solution: Damasec's extensive, on-the-ground experience and security knowhow in Libya, and AS Solution's global expertise in executive protection and secure travel services for multinational corporations.
Al Aman is part of the Damasec Global Group, and is a key element of the joint venture. Al Aman is one of only two companies licensed to operate with armed protection services in Libya. Given the situation in Libya, Al Aman's capacities in understanding the country's complex security scenarios, managing information and developing professional networks are crucial to successful security operations.
The joint venture combines the use of internationally trained and vetted Libyan nationals with expat security management to provide security solutions that are comprehensive, flexible and scalable. Services include work force protection, site protection, personal/VIP protection, transport/convoy protection and all forms of secure travel logistics, including cars, drivers, handling visas and work permits, hotel security, threat assessments and other supportive operations.
"We are very pleased to be part of this comprehensive setup," says Damasec CEO Henrik Faerch. "AS Solution brings a unique approach to this security concept, which builds on their years of experience working for Fortune 500 companies. AS Solution's ability to think ahead while maintaining a low profile and adapting to corporate as well as local cultures is unsurpassed. And their staff's real-world experience in so many security areas – including operations, training and consulting – means that we have been able to provide world-class security solutions in Libya extremely quickly."
AS Solution also sees great potential in this setup. According to CEO Christian West, Damasec is a perfect match for this type of operation in Libya.
"Everyone who has been following developments in Libya over the last few years knows what a difficult place it is to do business," explains Christian West. "Damasec has the Libyan experience, local knowhow, local capacity and network to get things done – even when the situation is incredibly difficult. With this cooperation, we can meet the clients at their plane, help them through immigration, get them where they need to go, and protect them where they work and live – and anywhere in between. For us, it's all about keeping people safe, productive and happy wherever their jobs take them."
For more information please contact:
AS Solution: Christian West, CEO; Phone +1 425 296-3017; Email: cw(at)assolution(dot)com
Damasec Global Group: Henrik Faerch, CEO; Phone: +45 7023 0093; Email: hf(at)damasec(dot)com