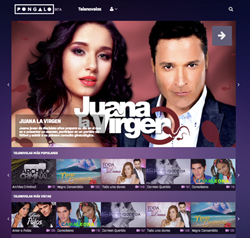 Pongalo is a one-stop streaming service that offers viewers a wide variety of content from Latin Everywhere's catalog of 50,000 hours of television, film and children's content.
Los Angeles, CA (PRWEB) January 20, 2015
Spanish-language digital entertainment powerhouse Latin Everywhere announced that it has launched the beta version of Pongalo, a worldwide Spanish-language content streaming web destination and mobile app that debuts today with one of the largest collections of telenovela titles globally. The company also announced that it acquired tech entrepreneur Sergio Radovcic's venture-backed Inmoo, a popular digital destination for independent movies, to provide the technology infrastructure for Pongalo.
Named for the Spanish term meaning "Play it," Pongalo is a one-stop streaming service that offers viewers a wide variety of content from Latin Everywhere's catalog of 50,000 hours of television, film and children's content. The beta version of Pongalo launches today with over 10,000 telenovela episodes which include, among others, titles from RCTV's (Venezuela) and Caracol's (Colombia) vast array of award winning telenovelas, including RCTV's Juana la Virgen, which was the basis for the recently Golden Globe-nominated U.S. series, Jane the Virgin. Pongalo will expand its content slate weekly throughout 2015 by leveraging Latin Everywhere's massive library, as well as new programs from other third-party Spanish-language content owners throughout the world.
Pongalo is the only worldwide streaming service solely focused on the tech-savvy and mobile-oriented Hispanic audience. In the U.S. specifically, market research firm Nielsen reports that 60% of all U.S. Hispanic households own an Internet-enabled smartphone, compared to just 43% for the general population, while they spend 25% more time than other households watching video on the Internet.
"U.S. Hispanics, in particular, consume more entertainment and adopt more mobile devices than any other ethnic group," said Rich Hull and Jorge Granier of Latin Everywhere. "This is a population that currently has $1.4 trillion in buying power, and is expected to more than double in the next 25 years. Pongalo was created for these U.S. Hispanics, as well as for Spanish speakers in Latin America and around the world, to be the definitive one-stop service that exists to let these audiences easily find and stream their favorite telenovelas, films and other content – whenever and wherever they want. We are very excited to fill the hole in this market by launching Pongalo into its beta phase, and we are equally excited about all of the new features and additional content we'll add throughout 2015."
Pongalo's beta platform launches today as a free, ad-supported service, with the addition of a premium subscription option and other new features coming this year. The Pongalo platform compliments Latin Everywhere's 60 million monthly views and 6 million subscribers on its Pongalo network of YouTube channels – one of the largest Spanish-language YouTube networks in the world – where a majority of the views originate from mobile devices.
In addition to being immediately available on the web at Pongalo.com, all content is also available through Pongalo's mobile apps, extending the platform's reach to virtually every digital and mobile device. The Pongalo app is now available for Android™ devices through Google Play™ and Apple® devices through the Apple App Store℠, with other app stores, set-top boxes, and smart TV platforms rolling out soon.
Commenting on recent major developments in the space, Carlos Penzini, an independent investor in Latin Everywhere who is also Viacom's Head of Latin American Strategy, said, "We've recently seen announcements from HBO, CBS and Univision, among others, validating the explosive market for streaming content. Unlike virtually every other streaming platform, Latin Everywhere holds worldwide rights to its existing content, so Pongalo does not have to be limited by geographic restrictions if it chooses. The digital space is built for nimble, digital-focused companies like Latin Everywhere, and its Pongalo platform is poised to quickly become a premier, one-stop worldwide streaming destination for Spanish speakers."
Inmoo previously provided access to thousands of streamed feature films and documentaries for viewing on computers, smartphones, tablets and televisions. The Inmoo platform was re-built by Radovcic and his team to support Pongalo's massive content catalogue and to include innovative streaming features such as dual language capabilities, episodic delivery, enhanced analytics, and social integration with Facebook, Twitter, Instagram and Google. The Inmoo brand and its library of English-language independent movies will continue to serve its existing audience as a new YouTube channel, and Inmoo's Radovcic will step into an on-going role with Latin Everywhere to lead the expansion of Pongalo onto additional devices, set-top boxes and smart TVs.
Availability:
Pongalo is available on the web at http://www.pongalo.com. The Pongalo mobile app is available on Google Play at https://play.google.com/store/apps/details?id=com.pongalo.app&hl=en and in the Apple App Store at https://itunes.apple.com/us/app/pongalo/id948129298?mt=8.
About Latin Everywhere
Latin Everywhere is a diversified Spanish-language digital media company created in 2014 through the merger of Rich Hull's Latin Anywhere and Jorge Granier's GoTV making the new company one of the largest Spanish-language digital rights holders in the world with over 50,000 hours of film and television content. Its library includes award-winning telenovelas and feature-length films, including the most celebrated telenovelas from Venezuela's RCTV. Additionally, Latin Everywhere's network of YouTube channels receives an average of 60 million views per month and offers popular Spanish-language content ranging from the company's television and film content, to webseries such as Isla Presidencial (over 40 million total views), to fresh daily short-form (user-generated) content. The critically acclaimed TV series and recent Golden Globe nominee Jane the Virgin is based on a Latin Everywhere RCTV telenovela. Additionally, the company also maintains distribution partnerships with Netflix, Hulu, Google, Amazon and more.
Google Play and Android are trademarks of Google Inc. Apple, the Apple logo, iPhone, iPad, and iPod touch are trademarks of Apple Inc., registered in the U.S. and other countries. App Store is a service mark of Apple Inc.
# # #
Media Contact
Stan Rosenfield & Associates
Zach Rosenfield
(310) 407-3442
zach@sra-pr.com