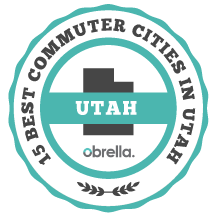 "On average, Utahns spend 134 hours on the road getting to and from work each year, impacting everything from living expenses to overall happiness."
SALT LAKE CITY, UT (PRWEB) January 20, 2015
The Obrella Insider released its "Best and Worst Commuter Cities in Utah" report today. To determine the rankings, Obrella analyzed traffic data from the 2013 U.S. Census Bureau survey, considering only Utah cities whose population exceeded 7,500 at the time of the survey.
The report visualizes compelling commuter data at the city level, including methods of commuting and a breakdown of commute durations.
View the full report and rankings: http://www.obrella.com/news/2015/best-worst-commuter-cities-utah/
10 BEST COMMUTER CITIES:
1. Price
2. Cedar City
3. Logan
4. St. George
5. Washington
6. Vernal
7. Provo
8. North Logan
9. Orem
10. Park City
10 WORST COMMUTER CITIES:
1. Eagle Mountain
2. Tooele
3. Grantsville
4. Bluffdale
5. Riverton
6. South Jordan
7. Summit Park
8. Kearns
9. Oqirrh
10. Alpine
"On average, Utahns spend 134 hours on the road getting to and from work each year," said Obrella Data Analyst Alexia Chianis. "Recognizing that excessive commute times can have direct impact on living expenses, insurance premiums, happiness, and overall health, we wanted to recognize cities that make commuting easier on their residents. We're hopeful that readers will consider the impact of lengthy commutes when choosing a city to live in."
ABOUT OBRELLA
The Obrella Insider analyzes and reports on everything insurance related, including consumer behavior and trends. Obrella is a community-focused organization that simplifies and adds transparency to the insurance shopping experience by providing helpful resources and comparing car insurance providers.