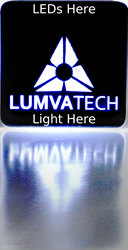 Engagement with major brands, retailers, and OEMs validates the Lumvatech partner solution offering LED backlighting with ultra thin planar light panels.
Anderson, SC, USA (PRWEB) January 20, 2015
Lumvatech LLC announces the acceptance of ultra thin planar light panels in significant new markets.
Advertising: Point of Sale advertising and semi-permanent displays that capture attention in the visually active retail space are a new development. Lumvatech is working through Fortune 500 advertising suppliers and more than 10 members of the Creative Top 50 P. O. P. Companies list for 2014 providing innovative advertising solutions. All these solutions leverage the creativity and manufacturing capability of the advertising supplier to offer major brands and retailers new ways to attract attention. The brands represent tobacco, alcohol, beer, pet supplies, candy, cosmetics, and food industries. The advertising suppliers also market directly to convenience, grocery, clothing, bedding, and home improvement retailers offering unique in store LED lighted advertising methods combined with their traditional assembly and fabrication capabilities.
White Goods: The top white goods makers globally are continually in search of simpler and more attractive methods of lighting human machine interfaces. The proliferation of capacitive switching and lighting on actuation is driving the industry toward lower cost and more nimble suppliers focused on providing custom light panels for their user interfaces. These include refrigerator, dishwasher, laundry, and water heating appliances world wide.
Medical: The constant push for user interfaces that are smooth, flat, and cleanable is leading the industry to capacitive touch and proximity switching solutions. These solutions need a method of separating the switch element sensors from the lighting circuit. The use of ultra thin planar light panels moves the LED light source away from the target lighted area. This enables the highly reliable and long life solutions needed for complex medical electronics interfaces.
Traditional membrane switch and logo makers: The ability to backlight tactile membrane switches and provide visual feedback of actuation has driven this market segment. Companies continue to request brand recognition and high tech appearance through lighted logos. This market is under served by existing incandescent or fluorescent lighting methods. The use of LEDs and light panels creates a robust and long life solution.
Automotive: The company is engaged with 6 of the top 15 global automotive OEM parts suppliers both directly and through HMI supplier partners. The engagement includes interior seating, sill lighting, instrumentation, and climate control lighting and exterior trim and logo lighting. The industry continues to pursue engagement to enhance interior appearance and simplify the design and production of control and instrumentation backlighting.
"We are pleased to see see all the signs of continued rapid growth and success as we enter our fifth year of business" stated company president Aaron Meltzer. "Our growth is driven by the mutually beneficial relationship with our industry partners."
About Lumvatech
Lumvatech is a leading U. S. based manufacturer of ultra thin planar light panels for LED backlighting. Custom thin solutions for backlighting of POP displays and signage, logo nameplates, and human machine interfaces with dome, membrane, and touch switches.
To gain additional information please see http://www.Lumvatech.com or send an email to sales(at)lumvatech(dot)com
For a review of Lumvatechs product portfolio see our Lumvatech channel at youtube or follow Lumvatech on Linked In.