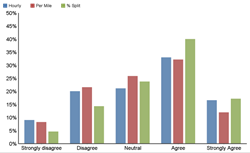 South Bend, IN (PRWEB) January 27, 2015
A recent study by driver retention experts, Stay Metrics®, identifies important data that will help carriers develop better driver compensation packages and improve driver satisfaction.
The research reveals drivers are more satisfied with percentage split pay, meaning they get paid a percentage of the invoice that is billed to the customer, instead of hourly or per mile.
The data was compiled from 4,000+ drivers from 31 different carriers. Of those drivers, 360 are paid hourly, 1795 are paid per mile, and 2364 are paid percentage split.Of those 31 carriers, 22 of them pay their drivers in two or more ways. The findings suggest:

Drivers paid on % split are 31% more satisfied with their pay than hourly and 29% more satisfied than per mile. The chart below details how fair drivers think their pay is compared to the amount of work...
Click here for the full report.