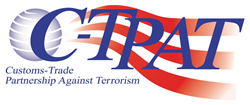 The C-TPAT certification strengthens our capability in supply chain optimization and allows us to better serve our clients
Atlanta, GA (PRWEB) January 21, 2015
PartnerTech Inc., a wholly owned subsidiary of PartnerTech AB, received notice of membership from the U.S. Customs Border Protection after completing a rigorous eligibility process that includes previous compliance with exporting, a documented security program and providing a designated officer to maintain supply chain security.
The C-TPAT certification is the latest received by PartnerTech Inc. as a part of a company wide commitment to provide complete solutions for clients. PartnerTech Inc. received ISO 13485 in 2014 adding to already held ISO 14001 and 9001 certifications.
C-TPAT certification requires proving secure supply chains to Customs Border Patrol thus improving overall international supply chain and U.S. border security. The certification provides expedited trade processing and priority processing for international shipment examinations. PartnerTech clients inherit the advantage of front-of the-line processing and ability to avoid costly delays in shipping.
"This additional certification is part of our on-going commitment to providing holistic solutions for our clients. The C-TPAT certification strengthens our capability in supply chain optimization and allows us to better serve our clients", Gary Bruce, President, PartnerTech Inc.
About PartnerTech
PartnerTech AB is a global industrial partner offering customized solutions throughout the product lifecycle, from product development to manufacturing and aftermarket services, in a number of market areas such as MedTech and Oil & Gas. With almost 1,400 employees at its plants in Sweden, Norway, Finland, Poland, the UK, the United States, and China, PartnerTech reports annual sales of more than SEK 2,2 billion (approx. $335MM). PartnerTech AB, the parent company, is headquartered in Malmö, Sweden and is listed on the Nasdaq OMX Stockholm Exchange.
PartnerTech Inc. is a wholly owned subsidiary of PartnerTech AB of Sweden and offers expertise in systems integration and postponement manufacturing, making them an obvious choice for companies seeking to lower costs through better forecasting, supply chain alternatives, and efficiencies in distribution and management of capital investments. Services are tailored to fit the needs of each client, with regard to scaling production, shipping expertise, and sourcing methods.