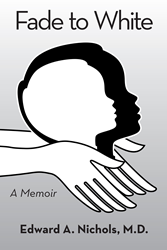 We want to inspire young children, especially black and brown children, to explore the world, grow and inspire others.
NEW ROCHELLE, N.Y. (PRWEB) January 21, 2015
After being inspired by questions posed by his daughters about their ancestry and having feelings about his own mortality after the death of his wife, Dr. Edward Nichols wanted to find answers to the many questions he had about his family. In his memoir, Fade to White, Dr. Nichols details his search for the father whom exited his life when he was just a boy, and also writes about his life, education, profession and thoughts about being a minority in the world.
"Remembering the past is a way in which we can affirm our identity and the value of our own life stories as we grow older," Dr. Nichols writes in Fade to White. "Claiming our stories — with their celebrations and crises — can bring a sense of integrity to our later years."
His life story begins growing up in the Bronx in the 1940s and '50s, when his father left his mother and children to struggle and survive alone, and progresses to attending medical school in Switzerland.
"We want to inspire young children, especially black and brown children, to explore the world, grow and inspire others," Dr. Nichols said.
But his story doesn't stop there. In Fade to White, Dr. Nichols also details his experience opening and maintaining a medical practice in Harlem for the past 40 years, while commenting on the effects of racism and the quandary of biracial families living in the United States.
Despite all his personal and professional accomplishments throughout his life, Dr. Nichols always felt like something was missing, which ultimately lead to his search for his long-absent father.
"Each segment of my book has moments of discovery and adventure, all culminating in the greatest discovery of my life: my father," Dr. Nichols said. "And then to find even more discoveries that would explode my thoughts, and I think the thoughts of many who read the memoir."
For more information, visit http://www.facebook.com/fadetowhitethememoir.
Fade to White
By Edward Nichols
ISBN: 978-1-49174-150-4
Available in softcover, hardcover and e-book
Available on Amazon, Barnes and Noble, and iUniverse.
About the author
Dr. Edward Nichols earned a Doctor of Medicine from the University of Basel, Switzerland. He has been an attending pediatrician for many hospitals in New York City, including Columbia Presbyterian Medical Center and Mt. Sinai Medical Center. Dr. Nichols currently resides in New Rochelle, N.Y., and runs his own medical practice in Harlem.
For review copies or interview requests, contact:
Jennifer Uebelhack
317.602.7137
juebelhack(at)bohlsengroup(dot)com