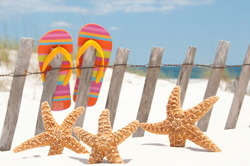 Food & Wine Festivals in the Best Florida Beach Towns
Sarasota, Florida (PRWEB) January 21, 2015
The Sarasota-Manatee area in Florida is home to award-winning restaurants with a Gulf Coast culinary heritage unlike any other region. Fresh gulf seafood like shrimp, oysters, crab, grouper, snapper and more, plus year-round growing seasons and quirky denizens make for an irresistible dining experience all up and down the other west coast, where folks will find some of the best Florida beach towns.
A dozen years ago, eight Sarasota area independent restaurant operators banded together to form the first Florida chapter of Dine Originals, dedicated to the proposition of dining locally and preserving the community's culinary uniqueness. Today there are over 50 member restaurants, all locally owned and operated, serving up the best of Florida's fields and waters from Venice FL up to quaint Anna Maria Island. Their signature event, now in its eighth year, is Forks & Corks – surely one of the most delicious food and wine festivals in the country. Running from January 23rd through the 26th, this year's festival features 81 of the finest winemakers from the US and around the world at events held in multiple venues, and is one of the most fun things to do in Sarasota FL.
To learn more, check out the Forks & Corks website for details and to obtain tickets. Here is just a sampling of delectable food and wine festival activities:
A SWEET LIFE
Great food, wine, art, friendships, community spirit – these are just some characteristics of the 'the good life' folks experience at the best retirement cities in Florida, with Sarasota high on the list. Sarasota is known as one of the best retirement towns for the arts famed for having the "Most Big Cultural Institutions per Square Inch" per TopRetirement and for the west coast's largest outlet malls. In addition to the Ringling Museum with its fabulous exhibits, performances and programs, there are dozens of art venues and other fun things to do in Sarasota FL. The Sarasota Opera, Sarasota Ballet, and the Sarasota Music Festival draw visitors from around the state and beyond with premier guest artists and local favorites. Sarasota is home to the Florida State University Center for the Performing Arts, and venues such as the Van Wesel Performing Arts Hall and the Asolo, a multi-theater complex, are always busy. Catch a Broadway show or explore numerous galleries on Lido Key. Plenty of travelling art shows round out the Sarasota's fine arts scene, where there is never a dull moment. For those who seek a full, rich retirement, few places can deliver the same level of culture, dining, civic engagement, clubs, sun, and services as Sarasota, FL. There are plenty of wonderful retirement-oriented communities in the Sarasota area's best Florida beach towns – like these.
A FEW FAVORITE MASTER PLANNED COMMUNITIES
From resort communities overlooking Sarasota Bayfront to master planned communities around Bradenton, friendly gated communities by the best Sarasota home builders offer something for every lifestyle. Golf, tennis, fishing, boating – it's all here.
Lakewood Ranch is a family-oriented town with nine villages in 13,500 acres. Four championship golf courses, 150 miles of jogging and cycling trails, parks, ball fields, two clubhouses, a fitness center, swimming pools, tennis courts, and the Sarasota Polo Club with its nine fields and regulation-size arena are just some of the reasons residents love this friendly, best master-planned community. The Main Street Shopping Complex puts restaurants, specialty shops and a six-screen movie theater within walking or biking distance, while white sand beaches are only minutes away.
University Park Country Club is a premier Sarasota golf community and was named Best Community Design in America by the National Association of Homebuilders. In addition to 27 holes of championship golf and superb clubhouse and golf facilities, residents in this 24-hour manned gated community enjoy a terrific location close to the Mall at University Town Center. University Park tennis facilities are also second to none. There are 31 neighborhoods supporting a huge community social calendar packed with club, dinner, fundraising, and league events. Lifetime friendships and warm gatherings are ubiquitous in this country club lifestyle community.
Longboat Key Club on world-famous Long Boat Key overlooking the shimmering green waters of the Gulf of Mexico is a beach lover's dream come true. This superb resort community is known for its boating lifestyle, but it also has excellent tennis and golf facilities, and offers golf, tennis and social memberships. Residence choices include oceanfront condominiums, beachfront homes, and deepwater homes on Sarasota Bay. Luxury amenities include 45 holes of golf in two courses, two clubhouses, two pools, 20 tennis courts, six restaurants, a full-service spa, and a 29-slip deepwater marina, among other things. Elegant, Florida beautiful, and sitting on some of the finest beaches in the world, Longboat Key Club must be seen to be appreciated.
IslandWalk is situated in one of the best retirement cities in Florida – Venice. Single-family homes in this 830-acre active lifestyle community are nestled amid nature with scenic trails, lakes and preserves serving as backdrops. The gated community is walking and golf cart friendly, and has a gazebo and event lawn with a fire pit – making it easy for neighbors to get together and socialize. IslandWalk residents enjoy many clubhouse amenities, such as heated swimming and lap pools, a fitness center, tennis courts, bocce ball courts, and pickleball courts. The Mediterranean-themed community is minutes from downtown Venice and I-75, so it's close to everything, including wonderful Venice shopping and art galleries. And best of all, all lawns are maintained by the home owners association!
ATTEND THE 2015 PARADE OF HOMES
For even more fun things to do in Sarasota, FL, time a winter vacation to overlap during the 2015 Parade of Homes presented by the Manatee-Sarasota Building Industry Association, February 21 through March 8. Tour professionally decorated luxury model homes daily, open 10am-5pm and from noon on Sunday, in some of the most popular Sarasota and Manatee County Gulf Coast communities. Several Sarasota home builders are represented, with a wide range of home styles and price ranges in golf course, waterfront, urban and private, gated communities. These award-winning Sarasota home builders' designs can be found in many of the best Florida beach towns, and in communities on tranquil Gulf Coast islands such as Anna Maria Island, Bird Key, Casey Key, Lido Key, Longboat Key, St. Armands Key and Siesta Key.
About Real Estate Scorecard:
Real Estate Scorecard writes unbiased real estate reviews providing in-depth information about popular gated communities in Florida, Georgia, North Carolina, South Carolina and Tennessee, all in an effort to help people discover where to retire in the Southeast.
Website: http://realestatescorecard.com