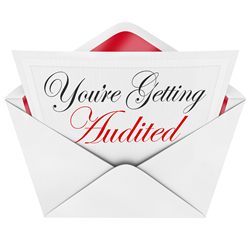 When you know how to avoid an audit, you can keep from making small mistakes that can lead to big headaches.
(PRWEB) January 20, 2015
Capital Solutions Bancorp, a working capital funding firm, has just released a blog titled "How to Avoid an Audit (And why you're less likely to get one this year anyway)." This blog lists things that get the attention of IRS agents and could lead to an audit. The blog can be read here.
How to Avoid an Audit
Avoid these things to limit the chances of an audit:
1. Overestimating charitable contributions
The IRS has calculated a standard charitable deduction amount for different income levels. Claiming much more than that can raise red flags at the IRS. Donations above $250 must be accompanied by receipts, and amounts above $500 require a Form 8283. Also, make sure to donate to a qualified charity. Donations to individuals, political organizations and candidates are not tax deductible.
2. Not reporting all income.
The IRS receives copies of all income reporting statements. Neglecting to include income that has elsewhere been reported to the IRS can lead to an audit.
3. Taking strange deductions
Creative tax preparation such as finding ways to deduct unusual expenses can raise the attention of IRS auditors. Keep all receipts, and be prepared to prove the deduction is legitimate if necessary.
4. Deducting a home office
The home office deduction is often abused, so taking one can raise suspicions. However, a new way to figure home office space does make it easier to take the deduction at $5 a square foot.
5. Making sloppy mistakes
Make sure to fill in every space on the forms, even with just a "0" or a "n/a." Double check all math and use legible handwriting on paper forms.
6. Not filing
Past filers who suddenly stop filing returns can get the attention of the IRS. Also, anyone who blows the whistle on someone who is cheating on their taxes can get a hefty reward of up to 30% of that taxpayer's owned amount.
About Capital Solutions Bancorp
Capital Solutions Bancorp provides working capital funding to businesses in all sectors. For more information, call 800-499-6179 or visit http://www.capitalsolutionsbancorp.com today.