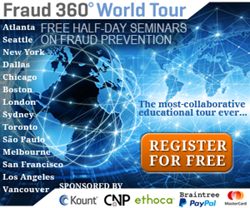 This series of events is the most collaborative, informative, local, global and cost-effective ever seen in this industry
Newburyport, Mass. (PRWEB) January 23, 2015
CardNotPresent.com today announced it will co-sponsor and participate in an educational tour bringing the state-of-the-art in card-not-present fraud prevention techniques directly to merchants in 16 cities around the world. The series of half-day events will give merchants struggling with growing fraud rates the chance to tap the knowledge and experience of leading experts in the field, including investigative journalist and security blogger Brian Krebs, CardNotPresent.com CEO Steven Casco and leaders from Kount, MasterCard and others.
The Fraud 360 seminar series, sponsored by CardNotPresent.com, Kount, Braintree-PayPal, Ethoca and MasterCard will explore global fraud trends and how they are affected by EMV migration, the current cyber threat environment and best practices in data security, a regulatory and compliance update and insights from recent mobile and cross-border surveys—at no charge to merchants.
"Unfettered access to the most up-to-date information has been a problem for e-commerce and omnichannel merchants. This series of events is the most collaborative, informative, local, global and cost-effective ever seen in this industry," said Casco. "We've put together a lineup of experts that will deliver actionable, cutting-edge information merchants can use to materially save their businesses money—and brought it right to their backyards."
The Fraud 360 seminar series officially launches on February 12 in Atlanta and currently includes dates in following cities:

Feb 12: Atlanta
Feb 18: Seattle
April 7: Dallas
April 9: Chicago
April 14: Boston
April 16: New York
April 23: London, England
May 22: Sydney, Australia
June 11: Toronto, Ontario, Canada
June 16: Sao Paulo, Brazil
July 24: Melbourne, Australia
Aug 4: San Francisco
Aug 6: Los Angeles
Aug 12: Vancouver, B.C., Canada
Merchants interested in attending Fraud 360 in their area at no charge can learn more details and register at http://www.kount.com/events/fraud-360-seminar-series.