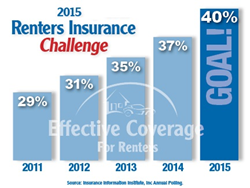 65 million renters in the US live without renters insurance.
Albany NY (PRWEB) February 04, 2015
According to reports from the Insurance Information Institute in 2014, there were 65 million renters in the United States that were leasing without renters insurance. This is compared to the 38 million Americans living without health insurance, according to the June 2014 National Health Interview Survey. This pervasive lack of insurance among renters comes from lack of awareness of the significant exposure renters face every day.
A new resource to coordinate the efforts of those individuals and organizations combating the prevalent lack of renters insurance is being launched by Effective Coverage at http://www.RentersInsuranceChallenge.com. Eric Narcisco, founder and CEO of Effective Coverage, suffered a fire while renting without insurance. He suffered tremendous financial and personal loss, which inspired him to build Effective Coverage. Effective Coverage focuses on providing affordable personal insurances that are tenant related. The Renters Insurance Challenge is the continuation of Effective Coverage efforts to educate renters about the value of renters insurance.
The immediate goal of the Renters Insurance Challenge is to encourage 40% of the nation's renters to be insured by the end of 2015. When this goal is achieved, three million more people will have the protection they need in the event of serious losses.
Each firm participating in the Renters Insurance Challenge will focus on educating renters and improving the customer experience associated with renters insurance. Some of the initiatives that the team at Effective Coverage will undertake in line with the core values of the Renters Insurance Challenge include:

Effective Coverage will partner with colleges and universities to ensure that our youngest renters know that they need coverage and understand how to be responsible consumers of insurance.
There are 12 million people in the United States living in affordable housing. Effective Coverage will work with public housing authorities to help protect those that are often the least prepared to handle a catastrophe.
Renters like to move fast, and so does the team at Effective Coverage. We will work with our underwriters including Travelers Insurance and Stillwater Insurance Group to ensure that renters can quickly purchase policies in even more states directly from our mobile platform in 2015.
To join the Renters Insurance Challenge and commit to insuring more renters, please visit http://www.RentersInsuranceChallenge.com or call (240) 667-7665. Any Renters Insurance Challenge member will receive customized educational material for renters, access to private webinars about renters insurance, customized educational videos, and visits from other members speaking on the benefits of renters insurance.
About Effective Coverage: Effective Coverage (http://www.EffectiveCoverage.com) is a national insurance provider delivering affordable insurance solutions to renters. Effective Coverage helps renters easily find the best rates and then purchase a policy within minutes. The Effective Coverage platform is supported by top insurance carriers including Travelers, Progressive, Stillwater, American Strategic, as well as many others. A graduate of the NYU Varick Street Incubator, Effective Coverage's investors include senior insurance executives from the nation's top firms.