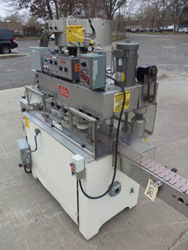 (PRWEB) January 21, 2015
Wohl Associates, a leader in used processing and packaging machinery based in Bohemia, NY, has added several used capping machines to their equipment inventory. These include a Kaps-All Model C, a Pack-West Model Auto-200-LC, and a Kaps-All model FE4 Cap Retorquer/Tightener.
The Kaps-All Model C is an eight spindle automatic in-line capping machine rated to fit up to 250 caps per minute, depending on size. Caps are fed from a top-mounted bowl feeder while bottles or jars enter on a conveyor 4 ½ inches wide and 90 inches long. A motorized height adjustment mechanism means the machine can handle a range of container heights. Speed control is provided for the stainless steel conveyor, spindles and cap feeder. Compressed air and a 3 phase, 60Hz, 208V electrical supply are required.
The Pack-West Auto-200-LC is an eight spindle "C" frame design machine for in-line capping. Caps are fed from a top-mounted hopper via a sorting ring into a delivery chute for fitting. Previously used for 28mm (1.1inch) diameter caps, a number of additional rings for different cap sizes are included. Construction is stainless steel. Extra tooling and a conveyor for this capper are available at an additional cost if required.
Also of interest to buyers researching used capping machines, the compact and portable Kaps-All FE4 Cap Retorquer/Tightener comes with a 90 inch long stainless steel conveyor with a 4 ½ inch wide plastic chain. A wide variety of metal, glass or plastic containers can be handled at speeds up to 200 per hour and the two-tier gripper design minimizes downtime due to changeover. The speed of the spindles, gripper belts and conveyor are all adjustable from the self-contained control panel. A single phase, 60Hz, 110V electrical supply is required.
These and similar machines may be viewed on the Wohl Associates website, http://www.wohlassociates.com. If a particular item is not shown buyers should consult a Wohl Associates product specialist regarding possible future availability.
About Wohl Associates
Wohl Associates is a leading dealer in the used processing and packaging machinery industry. With a history and solid reputation spanning over 40 years, they have earned the trust of their clients by offering quality pre-owned equipment, expert customer service and invaluable knowledge to their customers. They treat each customer on an individual basis and customers are provided the highest level of service. With a large inventory including cartoners, ribbon blenders, stainless steel tanks, unscrambling tables, colloid mills and vitamin manufacturing equipment.
Wohl Associates has the pre-owned machinery to fit any production line. To view their inventory and learn more, visit them at http://www.wohlassociates.com/.