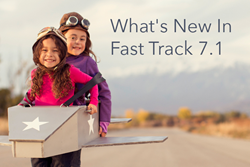 We are pleased to release our first Fast Track of 2015 and the first of the 7.x series. This release includes enhancements to the platform to further support developers as they efficiently build and manage their applications.
New York, NY (PRWEB) January 20, 2015
Nuxeo, provider of the Nuxeo Platform, a highly customizable and extensible content management platform for building business applications, announced availability of the Nuxeo Platform Fast Track 7.1. Among the platform enhancements and improvements are a new service for metadata read / write on binaries, computed image views, extended field constraints, a new reference engine and a streamlined workflow graph editor.
"We are pleased to release our first Fast Track of 2015 and the first of the 7.x series. This release includes enhancements to the platform to further support developers as they efficiently build and manage their applications." says Eric Barroca, Nuxeo CEO. "We are also laying the foundation for major innovations in upcoming Fast Track releases."
New features and improvements in FT 7.1 include:
Metadata Read / Write On Binaries
The capability to extract and write embedded metadata on binaries from Automation Chains, Event Handlers and any platform service becomes a native part of the Nuxeo Platform. The key benefit is the ability to handle virtually any embedded metadata on a file, only by configuration, and closely linked to the business case and needs.
This new service makes it simple to declare new metadata read / write processors and metadata document property mappings. It provides the features needed for using this mapping in custom automation chains context.
With the Nuxeo Platform FT 7.1, developers can easily configure metadata extraction and edits on metadata embedded files, such as:

Office, PDF metadata
EXIF, IPTC, XMP metadata
Media information (especially on video, pictures and sound)
The already impressive list of supported formats, thanks to the popular Exiftool, can easily be extended by integrating new processors for specific, niche formats.
Computed Picture Views
In FT 7.1, the service for handling computed picture views has been updated. The Nuxeo Platform now offers the ability to easily declare and configure new views using Automation Chains. Several new conversion operations have also been added to the operation library such as the conversion and resizing of a picture along with watermarking. Picture conversions can now be filtered so that developers can choose which picture conversions should be executed on a given document. Filtering is done through standard filters already used in the Nuxeo Platform.
This enables developers to offer end users a selection of file sizes that can easily be downloaded from the summary tab.
Extended Fields: Constraints and References
The Nuxeo Platform 7.1's repository engine has been improved with support of advanced constraint definition and a powerful reference engine.
The repository's flexible content model had been improved with advanced field-level constraints in the schema definition and an object reference engine. In addition to standard XML schema constraints (format, text length, numeric / date / time range, mandatory), the repository supports advanced regular expression patterns and reference to other objects (in the repository or in external value lists), including implicit referential integrity checks. The reference engine also offers an easy way to expand referenced objects when fetching a document, making it possible to get a document and all objects referenced in a single call.
With regard to content model flexibility at high volumes, the Nuxeo Platform repository engine is already one of the most advanced on the market. This new functionality adds another level of power and expressivity to model deep, complex business domains that are found in industries such as financial services, healthcare and government.
Workflow Graph Editor
Nuxeo Platform FT 7.1 has an upgraded visual editor for workflow processes. Improvements include a grid based system, better auto layout engine and snappy grid underlying the designer. It also let workflow designer position elements more easily. Nuxeo Studio users can design their business process easily with a greatly improved process definition clarity. This new editor is also available in the platform to present / preview workflow processes to users.
Additional Resources can be found here:
Release Notes
Platform Roadmap
Availability
Nuxeo FT 7.1 is currently available for download
About Nuxeo
Nuxeo dramatically improves how content-based applications are built, managed and deployed, making customers more agile, innovative and successful. Nuxeo provides a next generation, enterprise ready platform for building traditional and cutting-edge content oriented applications. Combining a powerful application development environment with SaaS-based tools and a modular architecture, the Nuxeo Platform and Products provide clear business value to some of the most recognizable brands including Verizon, Electronic Arts, Netflix, Sharp, FICO, the U.S. Navy, and Boeing. Nuxeo is headquartered in New York and Paris. More information is available at http://www.nuxeo.com.