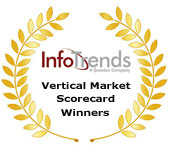 Weymouth, MA (PRWEB) January 20, 2015
InfoTrends names award winners from a web-based survey as part of a recently completed multi-client study, Industry Score Cards by Vertical Market. This study examined industry score card ranking of criteria and requirements by vertical and vendor's capabilities in the office technology.
Winners were determined by using InfoTrends' industry vertical market score card based on the following core customer criteria:

Paper intensive vertical markets: healthcare, financial services, retail, manufacturing, and education
Company size – Small (1-99), Medium (100-999), Large (1000+)
Decision maker's role of IT, CFO, CEO, Owner, President
Sales, service capabilities and delivery, and ongoing support for seven areas:
o Product
o Solutions Software & Partner Integration
o MPS Security Service & Support
o Brand & Emotion
o Sales Experience & Industry Knowledge
o Price
o Other Factors
Four overall categories were evaluated by 764 respondents. Winners for direct and indirect provider capabilities, winners for the highest score by vertical market, winners closest to the criteria of each vertical market, and overall vendor selected for all vertical markets.
A list of all winners include:
Highest Score Direct & Indirect Vendor Brands

Direct Provider - Canon
Indirect Provider - Konica Minolta
Highest Score by Vertical Market

Financial Services – Canon & Lexmark (Tied)
Healthcare – Xerox
Education – Konica Minolta
Manufacturing – Canon
Retail – Canon
Closest to the Criteria by Vertical Market

Financial Services – Ricoh
Healthcare – Konica Minolta
Education – Lexmark
Manufacturing – Ricoh
Retail – Xerox
Brand Most Chosen Overall

All Vertical Markets - Hewlett Packard
For more information about the Industry Score Cards by Vertical Market study, take a look at our online brochure, contact Scott Phinney at 781 616-2123, or email scott.phinney(at)infotrends(dot)com.