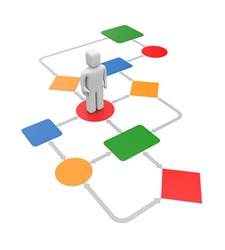 Plainfield, IL (PRWEB) January 21, 2015
VisualSP will host a no-cost webinar and discussion to help organizations jump start their planning efforts for 2015. The webinar titled, "Quick and Easy Customization Solutions in SharePoint" will take place on Thursday, January 29, 2015 from 12:00 - 1:00 pm EST.
This webinar is one in a series of collaborative webinars hosted by VisualSP. The goal of these no-cost webinars is to provide useful information and answer questions from the SharePoint community by bringing together subject-matter experts for an online discussion.
Since January is often a time for many organizations to concentrate on planning for the coming year, this webinar was designed to help companies utilize the many tools and resources available in the SharePoint platform, and guide power users to build powerful no-code solutions.
The webinar is set up more like a discussion rather than a presentation. Attendees are encouraged to bring their questions which will be addressed by a panel of experts on the topic. Some example questions could include:

What tools / resources are available in SharePoint to help organizations prepare for the year?
How easy it is to create solutions without having access to SharePoint server backend?
Webinar Details:
Date: Thursday, January 29, 2015
Time: 12 - 1:00 pm EST
Click Here to Register for the Webinar.
Panelists & Expertise:
> Asif Rehmani - MVP, MCT, founder/CEO of VisualSP.
Expertise: no-code solutions
> Ira Fuchs, Former SharePoint Technical Specdialist at Microsoft.
Expertise: no-code solutions customizing SharePoint
> Marc Anderson - MVP, Co-Founder and President of Sympraxis Consulting LLC.
Expertise: client side code or no-code solutions in SharePoint
The discussion will be moderated by Jack Fruh. Jack is an Enterprise SharePoint Administrator for a Fortune 500 company, and currently oversees 6 farm environments, each with Dev/Stage/Prod, encompassing about 65 SharePoint servers spanning SP 2007, 2010, 2013 and SharePoint Online/Office365. Jack is very involved in the SharePoint community and hosts a blog: SharePointJack
About VisualSP
VisualSP (formerly SharePoint-Videos.com) focuses on empowering information workers, technical decision makers, administrators and developers in corporate environments with the SharePoint knowledge they need to be successful. The company is the creator of the VisualSP Help System, a platform that delivers in-context support to end users through a Help tab in SharePoint ribbon. VisualSP has been helping drive SharePoint adoption in organizations by exposing Help content such as: video tutorials, screenshots and reference documents to the users when they need it. In addition, hundreds of video tutorials are available on the company website, which empower all SharePoint users to build powerful solutions and use the SharePoint platform effectively. http://www.VisualSP.com
twitter: @sharepointvideo / @asifrehmani