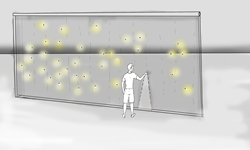 We're really focused on taking things to the next level in terms of how individuals interact with our displays,"
Chiago, IL. (PRWEB) January 20, 2015
Chicago area 3D mapping firm Chicago Projection Mapping is testing new developments in the field of interactive triggers for 3D and 4D projection mapping, sometimes labeled as immersive video projection mapping. As 3D projection mapping is already a technology considered to be rather innovative, further developments of the technology only further add to its appeal and interactivity. Ever committed to pushing the envelope, Chicago Projection Mapping has always devoted resources to the research and development of new technologies through its CPM Labs initiative. CPM Labs looks into new applications of current technologies, as well as brand new technologies, in order to remain competitive and meet the needs of clients not only today but also well into the future.
Among the developments that CPM Labs has helped to initiate are those relating to the interactivity of its projection media applications. Essentially, projection mapping works by projecting content such as animations, video, or images without the aid of a typical projection screen. Rather, the video animations are projected onto an already established surface, such as the side of a building, a vehicle, or even a manufactured stage element such as a cube. In the case of architectural mapping, for example, the side of building may be worked into the display, so that it looks as though the images and the building are interacting with one another in a realistic, yet fantastic, three-dimensional way.
The developments at the CPM Lab focus on interactivity in these displays by incorporating technologies as sophisticated as holographic displays all the way to the more straight forward, such as automatic triggers that activate the display as people walk by or responsive to real time data such as weather. "We're really focused on taking things to the next level in terms of how individuals interact with our displays," said Mark Smith, founder of Chicago Projection Mapping. "There are just so many possibilities for the future." These possibilities include incorporating real time data, responsive interactive feedback, triggering effects with the use of Kinetics, incorporating social media into displays, and more.
There are logistical and technical challenges to executing these interactive elements in any 3d mapping display or activation. That said, the possible benefits far outweigh those logistical challenges. For example, displays that incorporate social media could be sharable, helping to generate interest and buzz associated a brand. Some displays might even be unique, depending on the social media profile of the patron who walks next to that particular display. This could be tremendously useful to storefronts offering advertising, brand building, or even in a corporate setting—giving each employee a useful bit of encouragement. This type of technology could also be useful in otherwise static displays in, for example, residential areas—giving tenants a truly unique conversation piece.
While it might be difficult for anyone to accurate predict the needs of businesses and clients too far into the future, CPM Labs at Chicago Projection Mapping continues to attempt just that by investigating technologies in their infancy that could prove useful if brought to maturity. This helps keep Chicago Projection Mapping competitive today and puts the company in a great position for the future. If you are interested in discussing what the next big thing might be coming out of CPM Labs, contact Chicago Projection Mapping by email at info(at)ChicagoProjectionMapping(dot)com.
About Chicago Projection Mapping: Based in Chicago, IL, Chicago Projection Mapping is a full service content creation and 3D projection mapping company, serving the corporate, event, meeting, and convention sectors. For more information, please visit http://www.ChicagoProjectionMapping.com, or call 630-620-0000.
CPM capabilities …

3D and 4D Projection Mapping Design
Temporary and Permanent Installation
Consultation on All Aspects of Mapping Process
Show Design and Integration
Pre-Visualization, including storyboards and renderings
In-House 2D and 3D Animation Team
Custom Interactive Design Capabilities
Asset Reconfiguration for Brand Consistency
Integration with all major video and media formats
Custom Media Servers for flawless operation
Experience with all standard mapping hardware and software
Partnerships with regional and national hardware vendors
On-Site Setup, Mapping, and Event Operation
Remote access and operation for permanent installations
For more information, please visit http://www.ChicagoProjectionMapping.com, or call 630-620-0000.