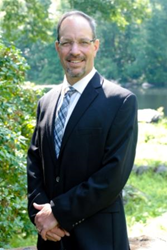 Waterford, CT (PRWEB) January 19, 2015
Waterford, CT residents in search of a minimally invasive treatment for receding gums for the New Year can now find relief from Dr. Gregory A. Toback of Shoreline Periodontics. Dr. Toback knows that gum recession is a common side effect of periodontal disease, and now offers Waterford residents the chance to regain their smiles back through the Pinhole Surgical Technique™. This procedure allows Dr. Toback to reposition receding gums with little to no pain or discomfort, minimal bleeding, and a short recovery and healing time.
Waterford, CT patients in need of treatment for their receding gums may also need help overcoming their periodontal disease, which is the most common cause of gum recession. As bacteria infect the gums surrounding the teeth, it causes the gums to detach and deep infected pockets to form. This often results in gum recession. Additional causes of the condition include aggressive brushing habits, misalignment of the teeth, clenching of the jaw and tobacco use. Regardless of what causes the condition, prompt treatment is essential to maintaining or regaining a healthy mouth. Serious complications can arise quickly when patients put off treatment.
While many options are available for treatment of receding gums, Dr. Toback recommends that many Waterford, CT patients undergo the Pinhole Surgical Technique™. Traditional gum recession treatment options include grafts and sutures and can result in serious pain and a long healing process. Due to the tools and techniques used in the PST™, patients usually experience minimal pain, short recovery times, and an overall improved patient experience when they choose the PST™.
To perform the procedure, Dr. Toback simply puts a small pinhole in the area above the recession and then uses specialized tools to gently detach the gums and reposition them to cover the exposed tooth. The gums are held in their new position using collagen strips, so no sutures are required. Some patients recover in as little as 24 hours. Patients who are interested in treating their periodontal disease and receiving the PST™ for the New Year are invited to contact Dr. Toback's office to learn more.
About the Practice
Shoreline Periodontics is a periodontal practice offering personalized dental care for patients in New London, CT, since 1998. Leading periodontist, Dr. Gregory A. Toback, received his B.A. from St. John's University and his Doctorate of Dental Medicine from the University of Connecticut. He also received advanced training in periodontics and dental implants at the University of Texas Health Science Center in San Antonio. Dr. Toback focuses on minimally invasive surgeries, offering the Laser Assisted New Attachment Procedure (LANAP®) and belongs to the one percent of dental professionals currently providing the Laser Assisted New Attachment Procedure (LANAP®) for gum disease treatment and the Chao Pinhole Surgical Technique™ for treatment of gum recession. To learn more about Shoreline Periodontics and their dental services visit their website at http://www.shorelineperio.com and call (860) 333-1531.