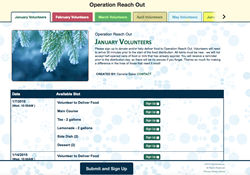 access a group of sign ups with one link and easily toggle between sign up pages
CHARLOTTE, N.C. (PRWEB) January 21, 2015
SignUpGenius adds another organizing feature to its already popular group of Pro tools. Sign Up Tabbing is a navigational tool that allows users to group sign up pages together online, similar to a paper filing system.
With Sign Up Tabbing, an organization's members can access a group of sign ups with one link and easily toggle between sign up pages. Now, large groups with many sign ups can easily display their needs in one spot, and longer, ongoing events can be broken up into multiple sign ups that are simple to view.
"Sign Up Tabbing is an exciting new Pro feature that I believe our members are going to really utilize," said Jojo Serquina, SignUpGenius Senior Developer. "Tabbing is especially beneficial to schools, churches, or larger groups who plan events frequently. It's a great way for sign up creators to organize their events and a one-stop-sign-up for their members."
A nonprofit organization may choose to create Tabs for each month. A school could create a Tab for each grade level or each teacher for parent teacher conferences. Businesses involved in several trade shows throughout the year can Tab by event staff volunteers and then go on to track participation with a volunteer hours report.
Cara Boester from Illinois enthuses, "SignUpGenius rocks! I use it in a University clinic setting to sign up everything from observations, to volunteer time to organizing the dept [sic] camping and baseball outings."
The Tabbing feature is available to SignUpGenius Pro subscribers. From now until February 15, 2015, SignUpGenius is offering an upgrade from the Basic free account to SignUpGenius Pro, which includes the new Tabbing and additional features, for as little as $99 a year.
About SignUpGenius
SignUpGenius simplifies the process of coordinating events and people by providing online sign ups for non-profits, schools, sports, churches, families, colleges, businesses, and organizations. By enabling up to 7 million unique visitors per month to sign up for tasks online, SignUpGenius has done away with the need for paper sign ups, "reply all" emails, and phone trees.
SignUpGenius on Facebook: http://www.facebook.com/SignUpGenius
SignUpGenius on Twitter: http://www.twitter.com/SignUpGenius
Contact SignUpGenius: press(at)signupgenius(dot)com