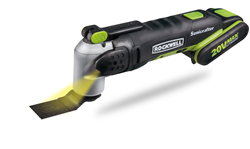 The hassle-free, cordless Sonicrafter has plenty of muscle to perform the same wide range of renovation and maintenance tasks as its corded counterparts.
Charlotte, NC (PRWEB) January 20, 2015
The 20V Sonicrafter is equally at home in a workshop, pickup truck's toolbox or on board an RV or boat. The cordless oscillating tool can be used in remote locations, on ladders and scaffolds or in hard-to-access areas, such as under sinks or boat hulls, in automobile trunks for stereo speaker cutouts, inside cabinets, in attics and even on roofs to cut flashing.
The hassle-free 20V Sonicrafter has plenty of muscle to perform the same wide range of renovation and maintenance tasks as its corded counterparts. It's powered by a 20V MaxLithium, 2.0 Ah battery for longer run time, high working efficiency and shorter recharge time. The battery also affords more charge cycles with minimal self-discharge.
For instance, with an end-cut blade attached, the 20V Sonicrafter can trim doorjambs or cut PVC and metal plumbing pipe. An Extended Life wood and nail plunge-cut blade works great for removing nailed-on trim, cutting aluminum thresholds to length or plunge-cutting holes in sheet metal and wood up to 1-5/8 inch depth.
Switch to a carbide grit semicircular blade to grind grout from between floor or wall tiles. Clamp on a rigid scraper blade to remove blistered paint, take rust to bare metal or scrape hardened caulk or adhesives. Triangular sanding pads and sanding sheets are great for sanding in corners and tight spaces.
Because even the best batteries eventually wear out, Rockwell provides its free Batteries for Life program once the tool is registered. A Rockwell cordless tool, such as the 20V Sonicrafter, can save its owner up to 70 percent versus competitors' tools over the tool's life, due to battery replacement costs.
Only Rockwell oscillating tools, including the 20V Sonicrafter, feature a spring-loaded centering mount that positively engages accessories with the help of the Hyperlock™ tool-less blade change system. Hyperlock provides one ton of clamping force to prevent blade slippage and stopped cuts.
Universal Fit™, the industry's first true universal accessory system, is another Rockwell exclusive. This enables the 20V Sonicrafter to accept other brands of accessories without adapters. Plus, Rockwell's universal accessories can be used with all competitors' oscillating tools without sacrificing fit or performance.
The 20V Sonicrafter weighs only 3.1 lbs. (with battery). A built-in LED work light improves visibility, and a metal gear housing assures durability and long service life. The oscillating multi-tool's variable speed dial allows precise control, ranging from 5,000 to 20,000 oscillations per minute (OPM).
The cordless Sonicrafter comes with an assortment of 27 Universal Fit accessories, including a 1-1/8 inch standard wood end cut blade, 3/8 inch Extended Life wood and nail plunge-cut blade, 3-1/8 inch HSS semicircle saw blade, rigid scraper blade, sanding pad, 20 sanding sheets, 3-1/8 inch carbide semicircle saw blade, 20V lithium-ion battery, one-hour charger and carrying bag.
In addition to the Rockwell 20V MaxLithium Sonicrafter (RK2863K, $159), the new generation of Rockwell oscillating tools includes the Sonicrafter F50 (RK5141K, $149), Sonicrafter F30 (RK5131K, $119), Sonicrafter (RK5121K, $79) and ShopSeries Sonictool (SS5121, $49). Sonicrafter tools are backed by a 3 year warranty.
Rockwell's Sonicrafter tools and accessories are available at Lowe's and rockwelltools.com.
Follow Rockwell through social media links, including, Facebook: https://www.facebook.com/RockwellTools?ref=hl and Twitter:http:// https://twitter.com/RockwellTools.