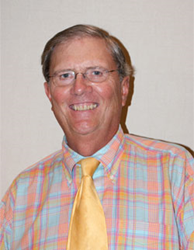 Annandale, VA (PRWEB) January 19, 2015
Dr. J. Alexander Withers of Dr. J. Alexander Withers Periodontics and Implant Dentistry is now offering a new laser gum disease treatment to residents of Annandale, VA who are suffering from bleeding gums and other signs of periodontal disease. The LANAP® protocol allows patients the opportunity to avoid the trauma of traditional treatments without foregoing the benefits. While traditional gum surgery usually involves using a scalpel to pull back and remove diseased tissue within the periodontal pockets surrounding the teeth, the LANAP® protocol does not involve scalpels or sutures of any kind. Due to the lack of cutting of gum tissue, gum recession is usually minimal or does not occur at all, so patients receive the very best smile possible following their treatment.
Gum disease is a condition that plagues an estimated 75 percent of Americans each year. The condition begins as a mild gingivitis, where plaque and bacteria build up along the gum line. This causes the gums to be inflamed, and Annandale, VA patients may experience bleeding gums when they brush and floss. If patients do not receive a gum disease treatment, the condition can turn into periodontitis, and eventually into advanced periodontitis. When this occurs, patients are in real danger of losing their teeth.
When performing the protocol, Dr. Withers utilizes the PerioLase®MVP-7™, a laser that was specifically designed for this procedure and has been cleared for use by the FDA. Using the laser, the doctor targets and removes the infected tissue in the periodontal pockets of the gums and no healthy tissue is affected by the laser. This procedure not only clears away periodontal disease, it can allow patients to save their existing teeth. The laser works to stimulate the bone so that it becomes stronger and regenerates so that tooth loss may no longer be an issue for some patients. Additionally, the procedure has no contraindications, so all who Dr. Withers feels would benefit from the procedure may receive the gum disease treatment.
Annandale, VA patients who have been experiencing bleeding gums no longer have to look for a LANAP® protocol provider outside their area, nor be forced to receive other less beneficial treatments. Patients with periodontal disease or less severe gingivitis are encouraged to contact Dr. Wither's Fairfax, VA office for more information or to schedule an appointment.
About the Doctor
Dr. J. Alexander Withers Periodontics and Implant Dentistry is a periodontal practice offering professional dental care for patients in Northern Virginia. Dr. Withers received a Bachelor's Degree in Biology, and earned his D.D.S. degree from The Medical College of Virginia. Dr. Withers has been named in the Top Dentists by the Washington Magazine, Checkbook Magazine and Consumer Research Council of America and Northern Virginia Magazine. To learn more about Dr. J. Alexander Withers Periodontics and Implant Dentistry and their dental services visit their website at http://www.withersperio.com/ or call (703) 997-4211.