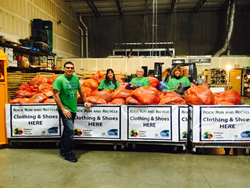 "Despite a higher than expected temperature we had our best collection year yet, thats a real testament to people knowing we are here to recycle running gear," Says Robby Milner Market Team Manager in Arizona for ATRS Recycling
Phoenix, AZ (PRWEB) January 20, 2015
American Textile Recycling Service (ATRS) and the Rock 'n' Roll Marathon Series set a new record at the P.F. Chang's Rock 'n' Roll Arizona Half Marathon this past weekend. The ROCK RUN RECYCLE partnership between the Phoenix based textile recycler and the nation's largest marathon series inspired more runners than ever before to shed warm-up layers at the Start Line and along the course for recycling.
Approximately 5,000 lbs. of unwanted clothing, shoes and race swag were picked up from the half marathon course and dropped off by runners at the Health & Fitness Expo. The result was a 40% increase from last years race, despite warmer than average weather on race day.
Volunteers, friends and family dressed in the company's signature ATRS RECYCLE HERE tees and green fairy gear lined the corals early on race morning to greet runners and collect warm-up apparel as the event kicked off. Every pound was bagged and weighed for reuse, redistribution or recycling. Local charity Weldon House directly benefits from the program and will receive much-needed funds from the collections.
"Despite a higher than expected temperature we had our best collection year yet, that's a real testament to people knowing we are here to recycle running gear," Says Robby Milner Market Team Manager in Arizona for ATRS Recycling, "Our Green Fairies and the Weldon House volunteers all pitched in to make this Rock Run Recycle Campaign the best year yet! A huge thank you to all our volunteers for helping us keep Arizona clean and green!"
The team also collected several palettes of water, snacks, bananas and other perishables from the Finish Line, which were immediately delivered to The Weldon House and a local homeless shelter to support day-to-day meal programs.
ATRS Clothing & Shoe Recyclers are located throughout the State of Arizona and provide year round drop-off points for gently used, outgrown and unwanted clothing, shoes, toys and household textiles. Each recycler provides an ongoing monthly stream of revenue for local charities like Weldon House, Mothers Against Drunk Driving and Children's Miracle Network. To find a recycler near you, call the 24-Hour Hotline 866.900-9308 or visit http://www.atrscorp.com/rockrunrecycle.
About ROCK RUN RECYCLE
Now in its third year, the campaign is sponsored by ATRS and the Rock 'n' Roll Marathon Series to promote fun, earth-friendly recycling practices at each race. Marathons will take place around the country in the New Year including the upcoming Rock 'n' Roll Dallas Half Marathon and Health & Fitness Expo on March 20-22, 2015.
About the Rock 'n' Roll Marathon Series
Organized by Competitor Group, the Rock 'n' Roll Marathon Series annually welcomes more than 600,000 professional and amateur runners taking part in 29 events around the world. The series, which started in 1998 with the simple idea of making running fun, has transformed the U.S. running landscape by infusing the course with live bands, cheer teams and entertaining water stations, creating a block-party atmosphere for participants and spectators alike.
Race weekend kicks off with a free Health & Fitness Expo showcasing the latest in running gear, sports apparel, health and nutritional information and much more. Events culminate with an entertaining finish line festival featuring some of the biggest names in music, with past headliners including Pitbull, FloRida, Cheap Trick, Bret Michaels and Macklemore. Rock 'n' Roll Tour Pass offers runners access to run multiple races for one-low price and earn Heavy Medal bling by completing more than one race in a calendar year. For more information, please visit RunRocknRoll.com or follow @RunRocknRoll on Twitter.
About American Textile Recycling Service (ATRS)
The nation's fastest growing textile recycler is an official recycling partner of Rock 'n' Roll Marathon Series. Its socially responsible business model provides free textile recycling solutions for the public, job stimulation worldwide and much-needed funding for worthy local charities. Easy, convenient ATRS Recyclers are available throughout Phoenix, Tucson and Tempe, Arizona, Texas, Colorado, Florida, Michigan, Tennessee, Atlanta, Oklahoma, and Southern California. ATRS is committed to keeping textile waste from local landfills and promoting a greener tomorrow. For press inquires contact pr (at) atrsonline (dot)com.