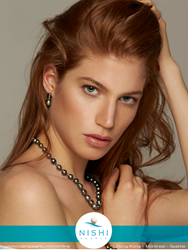 Montreal, Quebec (PRWEB) January 20, 2015
Specializing in an assortment of genuine cultured pearl jewelry, Nishi Pearls' recently-launched online shop invites fellow jewelry retailers across North America to its new B2B program, which offers benefits exclusive to retailers.
Moreover, select retail partners may also become Nishi Pearls Authorized Retailers, a special designation that grants additional privileges.
Nishi Pearls' eCommerce-based B2B program offers basic advantages to all existing and potential retail partners, including:

Wholesale prices – Retailers benefit from a special wholesale price on all items.
Marketing material – Retailers will be able to peruse and order a variety of free marketing material to accompany their Nishi Pearls jewelry.
Viewing orders within their vicinity – Retailers will be able to view details of orders made on the Nishi Pearls website within the vicinity of their ZIP/Postal codes.
Alongside the basic account offered to all retail partners, Nishi Pearls is also pleased to offer the Nishi Pearls Authorized Retailer (NPAR) account to select retail partners.
Privileges from this account include membership to their loyalty rewards programs, namely the ZIP/Postal Code Program and the Retailer-Affiliate Program, as these were conceived exclusively for NPARs and allow them to receive commission in the form of Nishi Dollars.
The ZIP/Postal Code Program enables NPARs to earn commission whenever a consumer within the area of their ZIP/Postal code places an order on the Nishi Pearls website.
The Retailer-Affiliate Program will also offer NPARs the advantage of receiving commission from every Nishi Pearls order that has been directed from their own website.
Both of these loyalty reward programs allow Nishi Pearls Authorized Retailers the opportunity to exchange Nishi Dollars for merchandise on the Nishi Pearls website. The purpose of these loyalty rewards programs is to thank Authorized Retailers for representing and promoting the Nishi Pearls brand.
In the meantime, Nishi Pearls extends an invitation to all jewelry retailers to enquire on its newly-launched B2B program.
Retailers within North America interested in becoming retail partners with Nishi Pearls can find more information on the Nishi Pearls website and are urged to contact them at info(at)nishipearls(dot)com.
Nishi Pearls™ is a brand that specializes in designing and creating a wide range of contemporary genuine cultured pearl jewelry. With offices located in Asia, Canada and the U.S.A, Nishi Pearls has been making its mark at some of the most prominent international jewelry fairs including the Jewelers International Showcase, the Orlando Duty Free Show of the Americas and the Jewelers' Circular Keystone's (JCK) annual trade show in Las Vegas, to name a few.
Nishi Pearls' dedication to quality is reflected in its partnerships with leading professionals, including their latest co-branding endeavor with Swarovski as well as Air Canada's Inflight program. Their award-winning jewelry is inspired by the consumer of today and the fashion of tomorrow.
Visit them at http://www.nishipearls.com