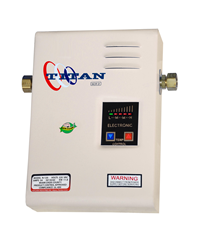 Miami, Florida (PRWEB) January 30, 2015
Niagara Industries Inc is celebrating a milestone. Thirty years ago, one man opened a small warehouse in Miami with the intention of introducing a product that was more efficient and smaller than a traditional water heater, but that technology was virtually unknown in the United States. Tankless water heaters had been around for many years but were confined to Europe and Asia. The idea of having a small tankless water heater for each point of use in Europe was good but the technology would not transfer over to the North American style of building which uses one central water heater for the whole house. That was when one man's vision and the potential of this technology was formed.
uis Bolivar was that man, he laid out the blueprints for what was to become the quintessential design for the first whole house electronic tankless water heater built in the USA. The Titan® Electronic Tankless Water Heater was that design. At first, the concept of heating the water only when you need it was difficult to introduce to the public. How something 1/10th the size of a standard water heater could do the same job but just better and for less cost? In those days of pre-internet the bulk of the marketing and sales were done traveling from plumbing supply to plumbing supply and exhibiting in trade fairs and home shows. The concept was embraced by some, but the mentality of many was still stuck on the old standard water heater which had not changed its basic design in 100 years. Many times Niagara Industries came close to closing its doors but being based in Miami, Fl, and its export business to the Caribbean, Central and South America kept it going. In those days the cost of utilities was not that high, those were the days of $1.00 or less per gallon of gas. But the cost of electricity started to go up and more and more people started to shift to a more efficient technology.
Now fast forwarding thirty years Niagara Industries Inc continues to manufacture it's renound Titan® Electronic Digital Tankless Water Heater with it is patented tankless water heater assembly and digital control system in its plant in Miami, Fl. Niagara Industries continues to design and build new products to meet the ever changing environment of its customers. New projects are underway and the future is bright for Niagara Industries on its 30th Anniversary. These are key parts of our corporate expansion plans and will assist our company in meeting strategic goals for 2015 as well as increase our marketing campaign capacity with a constantly growing customer base. We recently returned from The International Builders Show in Las Vegas were the Titan® series of digital tankless water heater were met with praise from many of our long term customers and new potential ones. Niagara Industries will be back in Las Vegas March 18-20 exhibiting at the ACE Hardware International Show. We hope to see you there!