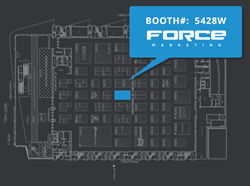 ATLANTA, GEORGIA (PRWEB) January 20, 2015
Force Marketing, one of the nation's leading automotive multi-channel marketing firms, will be presenting at the upcoming NADA Convention & Expo 2015 for the ninth consecutive year.
The prestigious dealer event is held each year by the National Automobile Dealers Association, and brings together dealers, industry professionals and vendors alike for a showcase of what's new within the automotive industry.
"Every year, NADA provides us with an incredible opportunity to meet with clients, vendor partners and thought leaders in the automotive space," said John Fitzpatrick, Force Marketing's CEO and President. "This year our presence at the show is bigger than ever, and we're looking forward to showcasing our unique blend of data-driven multi-channel marketing services that are specifically designed to help dealers improve ROI."
At this year's convention, the Force Marketing team will be located at Booth #5428W, where 30 associates will be on hand to meet with clients, dealers and agency partners. Attendees will also have the opportunity to attend a series of 15 Minute Marketing Test Drives at the booth-- brief and informative presentations given by some of Force Marketing's key team members, including Fitzpatrick as well as Vice President of Business Development Eric Mercado and Senior eCommerce Strategy Director Nick Cybela, to name a few.
Force Marketing's YouTube channel, ForceFeedTV, will be on hand throughout the convention filming clients, hosting interviews and tracking Force's daily presence at the show. In addition, Force will be partnering with the CBT Automotive Network at Booth #5428W, and CBT News will be broadcasting live each and every day from the booth.
Attendees who visit the Force Marketing booth can also receive a free multi-channel marketing analysis of your current digital, direct and email marketing efforts, a $995 value, in addition to gaining insight on the firm's array of multi-channel marketing services.
NADA 2015 attendees can schedule an appointment at Force Marketing's Booth #5428W in advance by visiting ForceMKTG.com/NADA2015, or visit the booth during the conference to demo the agency's services or to meet with a team member about how Force Marketing can help dealerships succeed in 2015.
ABOUT FORCE MARKETING
Force Marketing is an automotive direct mail and digital marketing company headquartered in Atlanta, Ga. The company offers marketing services to an expansive client base throughout the U.S. and Canada. The company made Inc. magazine's 500|5000 list of the fastest-growing private companies in the U.S. in 2014 for the sixth consecutive year. More information about their auto dealership marketing services can be found online at http://www.forcemarketing.com.