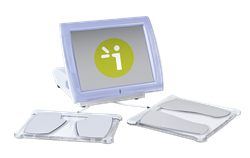 Impeto will enforce its patent and trademark rights to protect our considerable investment in innovation and to prevent both customer and market confusion
San Diego, CA (PRWEB) February 04, 2015
Impeto Medical S.A.S has sent a legal notice of patent infringement to LD Technology of Miami, Florida, with regard to three of Impeto's United States patents and Impeto's U.S. trademark SUDOSCAN®. The Sudopath device sold by LD Technology is allegedly the basis for Impeto's patent and trademark infringement suit.
"The continued rapid adoption of the SUDOSCAN® device by physicians across the U.S. coupled with the substantial clinical and published peer reviewed research from leading U.S. healthcare institutions further substantiate our technology. As such, Impeto will enforce its patent and trademark rights to protect our considerable investment in innovation and to prevent both customer and market confusion," said Impeto president Philippe Brunswick.
Impeto's SUDOSCAN® product is a medical device for the measurement of galvanic skin response to aid in the assessment of sudomotor function. It measures the ability of a patient's sweat glands to release chloride ions in response to an electrochemical stimulus on the palms of the hands and soles of the feet. Numerous clinical research studies, utilizing the SUDOSCAN® device, are establishing its diagnostic utility for various forms of small fiber neuropathy. "The SUDOSCAN® device is extremely reliable and accurate, and well supported by extensive clinical research," according to Mr. Brunswick.
Impeto's U.S. patents are 8,655,443 (issued February 18, 2014); 8,918,170 (issued December 23, 2014); and 8,934,954 (issued January 13, 2015). The SUDOSCAN® trademark is the subject of U.S. Registration No. 4,181,325 (issued July 31, 2012).
Impeto Medical S.A.S was founded in 2005 in Paris, France and has a U.S. subsidiary, Impeto Medical Inc., located in San Diego, California. Impeto received U.S. FDA clearance to sell its SUDOSCAN® device in 2010. More information about Impeto can be at http://www.impeto-medical.com and about its SUDOSCAN® device at http://www.sudoscan.com.