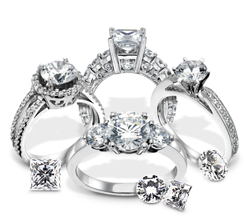 These five tips from 1215 Engagement will help any shopper walk away with a dream ring.
Milwaukee, WI (PRWEB) January 21, 2015
Time to pop the big question? Well, a lot of people think getting down one knee is terrifying, but really shopping for an engagement ring can be far more nerve-racking. Most people (hopefully) only purchase an engagement ring once in their life and there's a lot of insider information that can make the process daunting. It doesn't have to be that way though, these five tips from 1215 Engagement will help any shopper sift through all the engagement rings on the market and walk away with a dream ring.
1. Start with the ring style
For those on a tight budget, it's always good for the shopper to start by deciding what kind of ring they want. If a couple is shopping together this part of the process is really easy. If the ring is a surprise though it can be a little intimidating with thousands of styles available. A good idea is for the customer to look at the jewelry and clothes of their significant other for clues and don't be afraid to ask a close friend. Once a style is picked out, most jewelry companies will find a ring to fit the budget.
2. The ring size question
Just like clothes, a ring needs to fit just right in order to be worn comfortably. If a couple is shopping together they can just make a trip to a local jewelry store and the jeweler will measure their exact ring size. If the engagement is a surprise though, here are a few tricks that have worked for people in the past: Steal one of their current rings and have it sized. Tie a rope around their finger while they sleep and have that sized (sounds crazy but it works!) As a last ditch effort, find someone with a similar finger width and get their size.
3. Educate yourself
Color, cut and clarity oh my! For those that haven't purchased an engagement ring or diamond before, there's going to be a lot of jargon they're not used to. Shoppers shouldn't let that scare them away though, knowledge really is power when it comes to buying a ring. Unfortunately there are many jewelers that will take advantage of customers if they don't know what they're talking about. Luckily it doesn't have to be that hard though. Shoppers can learn about the 4Cs of buying a diamond with 90 second video. To learn more about the various metal options, check out this good article. Start there and then rely on Google for any further information.
4. Browse the stores
Unfortunately, shoppers are actually going to have to get off their couch at some point during the buying process! And yes, they are going to get hammered with 20 questions whenever they walk into a jewelry store. However, it will also give them a chance to see a wide range of ring styles live and in person. They'll also be able to see the difference between a high and low quality diamond, if they've never seen it before. No matter how much pressure jewelry stores put on shoppers though, they shouldn't buy in the store! Which brings us to our next point….
5. Buy online
Time to get out the credit card and plunk down the money! Before anyone does, they should make sure they compare all their options to ensure they're getting the best deal. Don't look at just the price though, consider the company's guarantees, return policy and customer service rating. All of these are just as important as price in getting a high quality engagement ring. They'll also want to make sure the company has their diamonds graded by an outside company like AIG, IGI or GIA. If the jewelry grades their own stones, they're likely ripping off shoppers. As long as all that lines up though, the shopper is about to walk away with a dream engagement ring. Congrats!