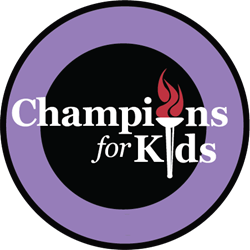 "Each of these winning projects is a sterling example of our core SIMPLE Service initiative," said Adelaide Schaeffer, President and CEO of Champions for Kids.
Fayetteville, AR (PRWEB) January 21, 2015
Three community organizations are receiving awards totaling $10,000 thanks to a service project through Champions for Kids, General Mills and Unilever. SIMPLE Service projects are Champions for Kids initiatives that create easy ways for people to give back to the children in their communities.
The "Fall Kids Essentials" SIMPLE Service project, sponsored by General Mills and Unilever, asked participants to provide food and personal care items to children in need. Participants were then able to share their stories through CFKHelpKidsThrive.org and nominate a school or youth-based organization of their choice for an award.
Seven finalists were promoted through a Champions for Kids Facebook application that allowed voters to 'like' and 'share' their favorite stories during a voting period. The top three stories with the most votes received awards in the following order: $5,000 for first place, $3,000 for second place and $2,000 for third place. The winners, in order:
1. Parson Hills Elementary – Project submitted by Jennifer Oesterle
2. Johnson City Schools – Project submitted by Bonnie White
3. Arkansas Unity Hawks – Project submitted by Shannon Lang
Visit http://championsforkids.org/raisingchampions/ to learn more.
According to the 2010 U.S. Census, over 16 million American children live in poverty. This means that in addition to being hungry, millions of children lack other basic items they need to thrive. In fact, Feeding America reports that families who struggle financially often make difficult trade-offs: nearly three in four (73 percent) of low-income families have cut back on food in order to afford products such as personal care and baby care items. Research from the National Scientific Council on the Developing Child shows that food insecurity is linked to poorer performance in school and increased illness.
About Champions for Kids
Champions for Kids makes it simple to give kids in your community the resources they need to thrive. By working with retailers, schools and volunteers to host in-store donation campaigns, service projects and community events, CFK has served more than 5,321,248 children in 50 states since 2004. The goal is to help 20 million children by the year 2020 through programs like SIMPLE Service and SIMPLE Giving, as well as events like RazorFest and the organization's Annual Conference. Champions for Kids has donated to 29,440 community organizations to support children's' needs and has leveraged 233,326 people for their cause. Additional information about Champions for Kids can be found by visiting http://www.championsforkids.org.