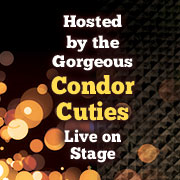 San Francisco, CA (PRWEB) January 19, 2015
Condor is known for featuring the most exciting parties in San Francisco. Now, the gentleman's club is once again providing top-notch entertainment with the Condor Cabaret. The show will feature Kitty Chow, the Condor Cuties and other special guests on Monday, Jan. 26.
"At Condor, we're always looking to give our guests a high quality club experience," said Axel Sang, Director of Marketing at BSC Management. "Our Condor Cabaret is sure to be an event that everyone will enjoy. Reserve your seat now, because it's sure to sell out fast!
Condor Cabaret is hosted by the gorgeous Condor Cuties and features Kitty Chow live on stage. Special guests include Mojo DeVille, Richard Sarvate, Norman Vane, Sergeant Die Wise, Christy the Amazon and Gage. The event will also have games, prizes and other fun surprises.
The show starts at 8 p.m. Monday, Jan. 26. Seating is limited, so those interested in attending should reserve a booth or table now. Visit their website to do so.
Condor is San Francisco's original topless gentleman's club and has been providing quality adult entertainment since 1964. Condor is located at 560 Broadway St., San Francisco, CA 94133. For more information, call 415-781-8222 or visit them online.
About Us:
Condor is San Francisco's original gentleman's club. In 1964, they became the first topless club in the United States. Since then, they have provided the Bay Area with quality adult entertainment and superior service. The club features a VIP lounge, champagne rooms, bottle service, topless dancing and concierge services, all in an effort to provide their guests with a special and exclusive experience. Everyone is sure to have a good time at Condor. With live music, a full bar and restaurant and topless adult entertainment, there's no better gentleman's club around. Condor Gentleman's Club is open 6 p.m. – 2 a.m. Monday through Wednesday and 12 p.m. – 2 a.m. Thursday to Sunday. For more information, visit their website or call 415-781-8222.