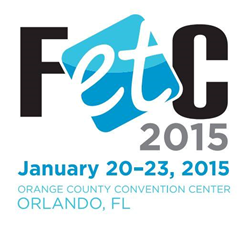 We are thrilled to have over 8,500 educators annually make FETC the cornerstone of their professional development plan
Orlando, Fla. (PRWEB) January 20, 2015
Educators, administrators and technologists from all 50 states and more than 40 countries will have an opportunity to explore and exchange techniques focused on integrating current and emerging technology across the curriculum when they convene today for FETC 2015 at the Orange County Convention Center in Orlando, Fla. – the largest national education technology conference held on the East Coast.
"We are thrilled to have over 8,500 educators annually make FETC the cornerstone of their professional development plan," said Patrick Gallagher, Event Director of Education Events at 1105 Media. "This year will be one of the biggest and best yet."
FETC's 35th annual conference is jam packed with dynamic speakers, exhibitors and events designed to provide PK-12 educators and administrators access to emergent technologies, cutting-edge programs and a highly innovative ed-tech marketplace. Attendees have access to more than 400 sessions, 475 interactive vendor exhibits and STEM, maker-ed and game-based learning events.
"We want everyone to increase their familiarity with the latest devices, hardware, software and successful strategies on student-technology integration," said Gallagher. "From our interactive Exhibit Hall to our incredible speaker line-up, our attendees get up-close and hands-on with innovative products and technologies that will help transform learning in their classrooms."
Opening keynote speaker Jane McGonigal kicks off the conference. McGonigal is the director of games research and development at the Institute for the Future and a world-renowned designer of alternate reality games. Author of Reality is Broken: Why Games Make Us Better and How They Can Change the World, McGonigal will speak about how games are transforming the way we lead our real lives and how they can challenge players to tackle real-world problems.
FETC's other notable keynotes include Jennifer Lawton, CEO of MakerBot; Former West Virginia Governor Bob Wise, President of Alliance for Excellent Education; and David Moinina Sengeh, MIT Biomechanics Engineer.
Also on the agenda this year are 150 ticketed workshops targeting the hottest topics including communication and collaboration; educational policy and leadership; emerging technologies; instructional design; mobile learning; online and blended learning; technology infrastructure; Web 2.0 and digital teaching tools; and curriculum areas.
Learn more about FETC at http://www.fetc.org. Join the conversation by following the conference on Twitter (@FETC) and using and searching the hashtag #FETC. For even more FETC updates, "like" FETC on Facebook and join the FETC LinkedIn group.
About 1105 Media
1105 Media, Inc. provides integrated business-to-business information and media to qualified professionals in the public, academic and private sectors focusing on technology, products, policy, regulation and news delivered through an assortment of media, including print and online magazines, journals and newsletters; seminars, conferences, executive summits and trade shows; training and courseware; and Web-based services. The markets served by these offerings include Government, Education, Network & Enterprise Computing, Business Intelligence, Office Equipment, Industrial Health & Safety, Compliance, Security, Environmental Protection, Water & Wastewater and Home Medical Equipment. 1105 Media is based in Chatsworth, Calif., with primary offices throughout the U.S. and more than 350 employees.
# # #
Note: FETC 2015 will feature an on-site Press Room where registered media representatives can schedule interviews, work stories or just relax. Media representatives are required to register and will not be admitted into any FETC venues without a badge issued by FETC press staff. There is no cost for media registration. Media representatives interested in attending and covering FETC 2015 can register on-site at the Orange County Convention Center in room S210E.